She uses the word "surrogate" like she's trying to convince everyone (and herself) that it's true.
She's also sore because she realised that she has a real competitor for the position of Biff's Crazy VP in Ramaswamy. I'll bet she was hoping to deliver some racist digs at him for the Faux audience.
Should we call her a brown nose or an orange one?
Only a matter of time before Trump himself posts a misogynist all-caps rant on Truth Social disavowing any such association with "Wild Eyes" Greene.
So this is censorship from Fox News. This is censorship

"We have freedom of speech," she insisted. "President Trump's speech is constantly being canceled, Brian. He's being arrested and indicted in Fulton County tomorrow because of his speech, because he said the election was stolen in 2020."
[Keeping to the MASH theme]
The very simple response should have been, "If you're mad about that, I suggest you take it up with Mr. Trump, because if he had chosen to participate in the debate he was invited to, you would have been invited to the spin room. He didn't, so you weren't."
I can't believe just 15 short years ago, I thought Sarah Palin was dangerously stupid…EmpTyG shows how naive I was.
Just like there is always someone better at something, I guess it holds true that there is somebody worse.
Everything that the "trump surrogates", Greene, Gaetz, Don Jr., Tucker, etc. did last night was to try and discredit FoxNews. It's funny that trump has unleashed his hounds on his former and favorite mouthpiece.
There's a MASH theme today?
Maybe less "theme" than "discursive reference." Over in the "spear through a window" thread. I'm trying to recapture the better aspect of that show.
Cool!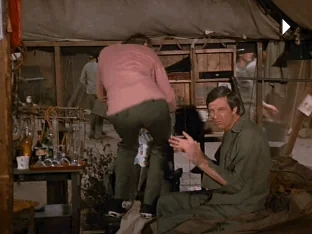 It's just breathtaking that in one sentence she demonstrates that she doesn't understand the concept of censorship, surrogates or what a spin room is for.
That's some authentic frontier gibberish right there.
I'm all in on classic MASH!
I asked Sherman T Potter what he thought of the debate and MTG's response.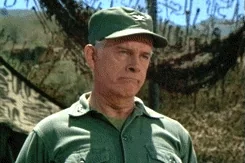 what is also funny is that fox was having none of it. gee what a sad, sad situation for all involved.
All this talk of "surrogates" has put a horrific image of Trump with a Turkey Baster







































In times past, for MTG stories, BB used to use a blurred photo where she had googly-eyes. That made me imagine a scenario where instead of going on a further tirade, something just misfires, where all she says is approximately "BLblblblbbbbllllbBLlll," glitching over & over in a loop like some hapless Max Headroom.