didn't realize they were gone…like everything else, I guess. First one I ever saw swam under a rowboat I was piloting in shallow water. It was pretty big, probably six feet or perhaps longer. I had no idea there were such things in "my lake", literally thought it was a shark. Didn't go swimming for a while

(I was about nine)
OH, um, this might trouble a few of you, but fun fact:
They make duckling lures for Muskies. Evidently they work.
re Sturgeon
It was pretty big, probably six feet or perhaps longer.
I sat on one once… It took the same eddy as I was using for a quick wash-off. Was just sitting into the water and felt it going between my legs… big ugly beast… I reacted more than it did, especially with my being less than, um, fully clothed, but I don't think the smaller (<15ft) sturgeon are bitey. I did get a photo, however…

Fresh Water Barracuda a.k.a. Muskies… yup, different story all together… them and snapping turtles… met this one just before getting into the water.
"Killer Muskie", another fine direct-to-meme feature from the Sci-Fi channel! Coming this fall. . . .
At a young age of 9 on Georgian Bay I saw a full grown sea gull wading along the surface of the lake when a something swallowed the bird and it was gone. Didn't swim much afterwards that summer or the next.
Anyone have Psycho Muskies on their 2020 bingo card for August? No?
Save your cards, folks. It sounds like we're in for a swarm of escaped mutant radioactive cannibal ants next month, but you didn't hear that from me.
Some sort of bait, as it were.
We have Muskie by me. They have never killed anyone.
Oh well, Chicago swans, yeah.
Sturgeon aren't gone, though they are drastically reduced. People catch 1000 lb sturgeon in the Fraser River on occasion (have to release them).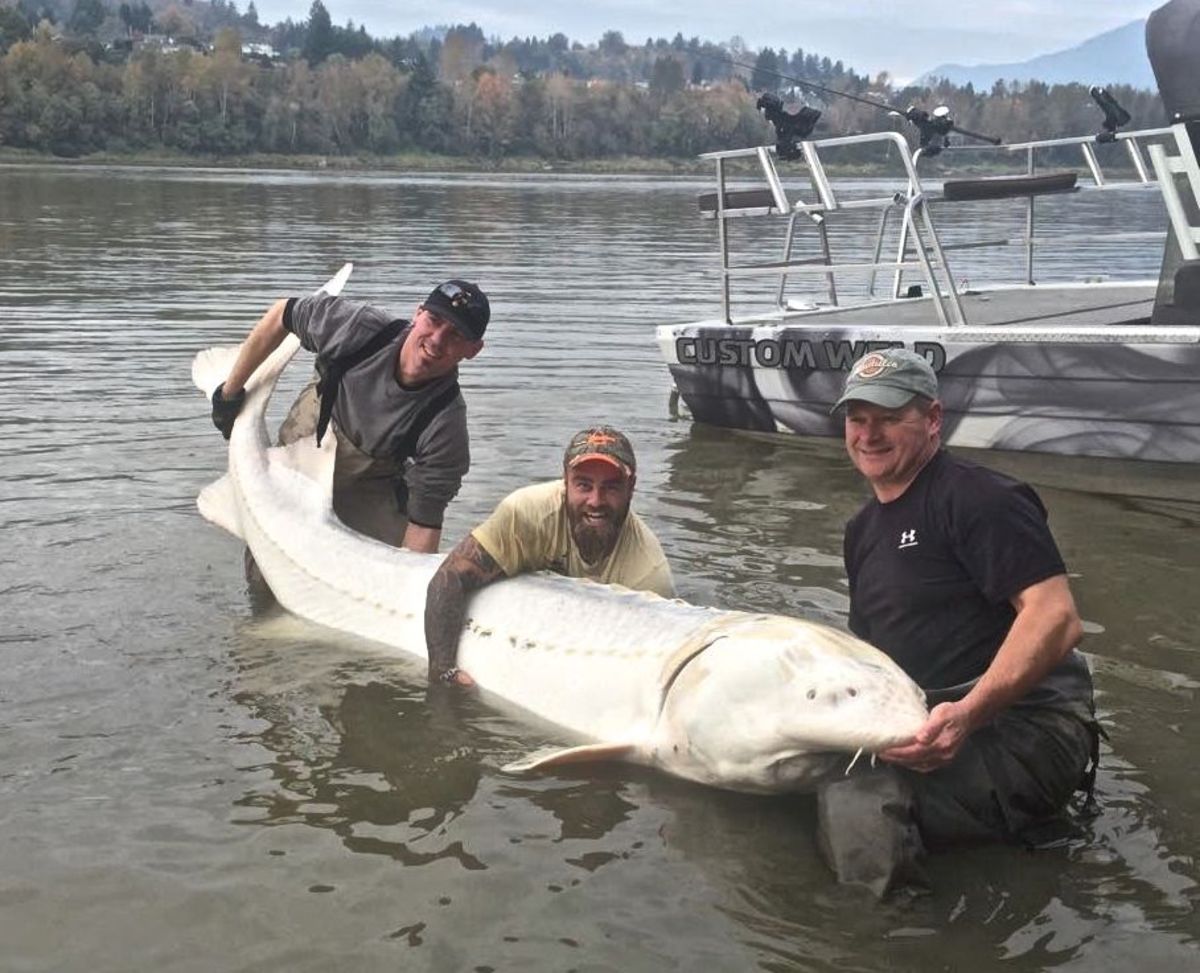 Looks like a new meme will soon come into being.
When I was a kid we use to hang out at a shallow beach. Only about a foot deep. One day a girl went down with a visceral scream and was promptly surrounded by blood. It ended up being a barracuda who thought her ankle bracelet was a tasty fish. It severed her achilles tendon.
But still very 'rapacious'. I think that word was (slightly mis)used very deliberately.
Ahh, our beloved freshwater Barracudas! Your given dimensions would be for an exceptional creature although even larger specimens – over seven feet and 80 pounds have been historically reported. But you know fishermen – the catch always grows and grows in the retelling. The fish are typical ambush predators and I'm really surprised that one would attack anything that it didn't figure it could swallow in a single gulp.