Police dogs - probable cause on four paws
And now they're sunk-cost dogs.
Retiring police dogs all at one time costs a hell of a lot less than incarcerating thousands of people 20+ years each for possessing a small amount of marijuana. This isn't rocket surgery.
Plus I would wager that many of these dogs aren't actually finding marijuana but instead are responding to their handler's cues, thus creating probably causes for search and seizure that otherwise shouldn't fly, and mostly to minorities.
Keep them employed or they will rise up since you've likely squandered their pensions.
They started using that excuse a few years ago. If, at that time, there had been a halt on the acquisition and training of new dogs, the (sunk) cost to decommission them now would be much less.
I bet that proposing a halt would cause an interesting excuse spasm of "reasons" why it can't be done.
Woof woof…translating…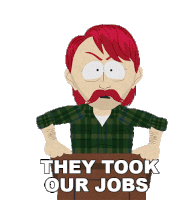 Remember: the NRA got into politics in favor of gun control, specifically taking guns away from "those people", which is to say: racism and appeasing the NRA are the same picture.
They should retrain the dogs to bite lawmakers who make stupid arguments that prioritize money over human lives.
I'm sure there is some of that, but dogs really are trained to sniff out illicit substances. I had one target me at customs at Dulles airport. I had to open my suitcase and show I had a fox fur shopka (russian fur hat) before the customs police would let me continue on my journey. They informed me that that particular dog was trained to sniff out contraband animals and animal products.
But, you know, there are other drugs they look for, such as cocaine, meth, heroine. It's not like the legalization of weed is going put that trade out of business.
Have you noticed that the dogs they use for agriculture control are usually cute little beagles while the drug sniffing K-9 units are scary looking German shepherds or dobermans? Gee…I wonder why?
The Chicago Tribune sifted through three years worth of cases in which law enforcement used dogs to sniff out drugs in cars in suburban Chicago. According to the analysis, officers found drugs or paraphernalia in only 44 percent of cases in which the dogs had alerted them.

When the driver was Latino, the dogs were right just just 27 percent of the time.
Absolutely. Bitey dog used for biting POC. I'm not questioning that. But the dogs are trained to detect specific things, even as they are used to assault suspiciously specific civilians.
There are no bad dogs. Just bad cops misusing good dogs.
Exactly this.
I wish the defending lawyer would insist that the K-9 (and officer) prove their abilities in a double-blind randomized study with a passing score of at least 95%. As part of this experiment I would intentionally mislead the officer into inducing/signaling a false positive. (Surprise: There was no MJ, except for a trace amount found on a seat on a public bus or taxi.)
Doesn't not spending money on drug sniffing dogs cost less than spending money on drug sniffing dogs?
That cute rhyme enrages me…
Yeah the premise is all kinds of asinine… it's not like caring for a dog suddenly becomes more expensive when that dog isn't sniffing for weed.
I am kind of peeved that my German Shepherd and Belgian Malinois never offer to help out with household expenses though.
There's even questions whether they are actually finding drugs or just trying to make their owners/cops happy.
While dogs are indeed capable of sniffing out illicit drugs, we've bred into them another overriding trait: the desire to please. Even drug dogs with conscientious handlers will read their handlers' unintentional body language and alert accordingly. A 2010 study found that packages designed to trick handlers into thinking there were drugs inside them were much more likely to trigger false alerts than packages designed to trick the dogs … Many drug dogs, then, are not alerting to the presence of drugs, but to their handlers' suspicions about the presence of drugs. And searches based on little more than law enforcement's suspicions are exactly what the Fourth Amendment is supposed to prevent.