Her family has Jewish blood on its hands.
but she takes such a strong stand against antisemitism /s
"I'm the first person to condemn it and say, like, 'Hey, that's not cool. I don't align with that.'"
Larry the Cable Guy isn't usually my cup of tea but he's easily one of the funniest "conservative comedians" around these days, if only because he still tells jokes instead of just delivering bigoted rants in the guise of "comedy."
Sounds like he just pissed off a bunch of his base by poking fun at the biggest clown In Congress.
Thanks for the link. For those who don't want to click through, the clown is the usual easy target, Empty G.
I'd love to see how Trump reacts when he finds out that Santos directly screwed him out of thousands of dollars.
One of George Santos' first acts as a candidate for Congress in 2019, according to his campaign finance filings, was making a series of four-figure donations from his campaign to a pair of local Republican groups and President Donald Trump's reelection committee.

But according to those groups' own filings, the contributions were never received — and may not have been donated.
Not exactly a win if they're replaced by fanatics.
Might be nice if instead of quitting in a huff, they'd push back against their fellow conservatives and try to right the ship?!?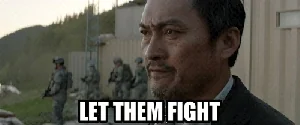 I hope so… but I'll believe it when I see the network implode…
Lady Discovery is kin to Karma but faster on the uptake. Fox should have known better and settled as soon as possible, even if it did take an official retraction and a few million. If they'd done that super early, the media coverage of the settlement would have gone away pretty quickly
Glad they didn't. I hope this tears them apart
Yeah, the article feels a little like wishful thinking. Or "decent people with capacity for shame would feel anguish over this".
I also hope it's true, and I would love to see some more evidence of this anguish

along the lines on an implosion.
It seems that from the stuff that's come out, that Carlson and others only care about the economic viability of the network, and their own bottomlines… I have little doubt that people would just go find more fashy pastures should Fox implode…
Ding ding ding!


The part I find so utterly cognitively dissonant is that Fox News has periodically claimed that "Fox is entertainment, not news" (aka the Alex Jones defense):
while ok ok yeah insisting that they are a "news" "outlet" WTFTM.
This bizarre song-and-dance gaslight-y shit only "works" on the public when unimaginably huge piles of money are used to warp space, time, politicians, agencies that ought to be holding them accountable, etc.
Sigh.
If only this statement were true:
From that Salon article, I found this interesting:
Trump himself is, in many ways, the typical Fox viewer: Elderly, obsessed with his baseless grievances, and hostile to anything resembling reality-based journalism. His response to all this has been telling. Unsurprisingly, he has a sociopath's lack of remorse for getting Fox News into this situation in the first place, by making the Big Lie a thing their audience wanted to hear more of. Instead, he's been raving on Truth Social about "how weak and ineffective Fox News is" and how they should defend themselves instead by doubling down on the lies, but this time in a court setting.
One can only imagine how things are going to go, if or when


gets to the discovery phase in any of his pending cases.