I have long been casually on the lookout for a Jersey kale walking stick. No luck so far.
You can make them from a Brussels sprout stalk too.
Here in the Chicago area our winters are too cold so they dont get a chance to grow tall enough or to get woody enough because the growing season is too short. One year I managed to get some decently tall plants but the stems were too soft and rotted away while drying them (and smelled terrible)

The same thing my mind does when I hungrily open the refrigerator.
The weather is getting colder and my veggies are starting to die back (with the exception of my kale, which continues to thrive). I picked probably the 3rd and 4th to last Zucchs of the year yesterday and decided that I needed an excuse to turn the oven on for dinner. Enter the savory galette featuring:
herbed buckweat crust
goat cheese spread made with jammy tomatoes and green onions
zucchini
grated parm on top to finish
Oh MAN was it good. I was worried that there might be too much going on, but there wasn't. Served with a zingy, vinegar-y salad and chicken sausage.
Looks amazing!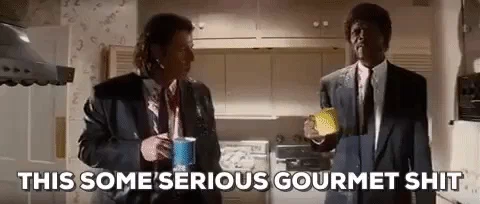 Oooh! Every summer I forget all about galette, then I'm reminded of them in the fall. It's dreary here this week, maybe perfect timing for the reminder.
This is one of my super powers, being able to shake delicious meals out of pantry tidbits and odds and ends from the fridge.
When Lynne was host of "The Splendid Table," I loved the game where people would call in with three random ingredients and she would concoct some delicious recipe idea for them.
This is also my SOP. It's rare that I plan and execute a recipe much less a whole menu. I will buy ingredients with an end in mind but often improvise when the time comes to prepare a meal.
man, i used to love that radio show! that was my favorite part, too.
but yeah, just knowing how things work together and even some lucky guesses are what make preparing yummy meals a fun adventure for me. plus, the full spice cabinet and fridge-door condiments and sauces mean whatever gets tossed together will be full of flavor! had a gf once ask me "how many Asian sauces do you need?"
all of them, thankyouverymuch!
haha! you laugh, but at this very moment there is a canister of "everything bagel topping" in the spice cabinet. i use it on homemade pretzels.
That crust looks simply amazing.
It stood up to both the flavor and heft of the filling quite nicely. Usually I use Pepin's pate brisee for my sweet galettes, but a friend suggested that I give this crust recipe a go. I subbed in 1/4c buckwheat and added a dash of this and that from the spice rack but otherwise used the ingredients as written. I don't have a F52 account (and was unable to view the full recipe), so I made it like I would a typical pie crust and it turned out great.
Now I'm fantasizing about all the other savory filling combinations I can make…cheddar and corn and chiles, maybe? Sausage and kale and shrooms? Kimchi and ???
You sure about that? I don't see what's missing:
Ingredients

1 1/4 cups unbleached all-purpose flour

1 1/2 teaspoons granulated sugar

1/2 teaspoon kosher salt

1/4 pound (1 stick) cold unsalted butter, cut into ½-inch pieces

1/2 cup cold water

1/2 cup ice

2 tablespoons cider vinegar

Directions

In a large bowl, stir the flour, sugar, and salt. Add the butter and coat with the flour mixture with a bench scraper or spatula.
Using a pastry blender, cut the butter into the flour mixture, working quickly until mostly pea-size pieces of butter remain (a few larger pieces are okay; be careful not to overblend).
In a large measuring cup or small bowl, combine the water, ice, and vinegar. Sprinkle 2 tablespoons of the ice water mixture over the flour mixture. Mix and cut it in with the bench scraper or spatula until fully incorporated.
Add more of the ice water mixture, 1 to 2 tablespoons at a time, using the bench scraper or your hands (or both) to mix until the dough comes together in a ball, with some dry bits remaining.
Squeeze and pinch with your fingertips to bring all the dough together, sprinkling the dry bits with small drops of the ice water mixture, if necessary, to combine.
Shape the dough into a flat disc, wrap in plastic, and refrigerate for at least 1 hour or up to preferably overnight to give the crust time to mellow.
If making the double-crust version, divide the dough in half before shaping each portion into flat discs.
Do Ahead: The dough can be made 3 days ahead. Wrap tightly and keep chilled, or freeze for up to 1 month.
Strange - when I had it pulled up on my phone last night it paywalled me! Wonder if it was a mobile version thing or if I'd already used up some mysterious quota of "free" recipes on that device.
I can't answer your questions, but I'll tell you I was using an Apple desktop with Firefox, UBlock Origin, Privacy Badger, etc.
Try on a desk/laptop and see if that helps.
It's working now on my laptop (chrome + ad blocking), who knows!

Anywho, it was a good recipe and I'd never tried using apple cider vinegar before in a crust, so that was exciting.
Mabo nasu or spicy aubergines.
Everyone says this is a Japanese adaptation of an original Chinese recipe. I ended up making one more adaptation because I had to use only the ingredients that were in the fridge. It was nice and very spicy.
Took some leftover spaghetti, some old corn on the cob, a few slices of bacon and made a spaghetti pie for dinner. It's always satisfying to clean out leftovers before they are dead.
spaghetti pie. have to admit that while that sounds so very… midwestern, i am actually intrigued.
reminds me of a friend back in AZ who would roll leftover spags 'n' meat sauce in a flour tortilla to make a spaghetti burrito. carb out, my friend (his diet did catch up with him eventually. RIP, Brucie)