He had a small generic bit-part as a waiter in the original Blues Brothers movie. Glad he went on to better things.
You ought to see the whole movie. It's genuinely terrific. I know it looks off-putting at first, but Pee-Wee is a thoroughly inhabited character and it really works. (The sequels are not so great, because they stretch the innocent-man-child shtick past the breaking point. But the original is pure Tim Burton, and it is wonderful.)
The woman who says "Let me have him!" is Cassandra Peterson, aka Elvira, Mistress of the Dark.
Don't yuck other people's yums.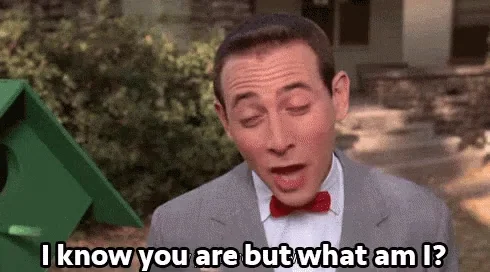 The Gong Show was brilliant and so much fun.
Seems like there's less silliness in the world than what we usedta have. Instead we get "comedians" who bully and punch down. We get a humorless bore in the YT comments inquiring why Mr Barris' headwear invariably prevents his seeing anything. We also get the pleasant initial comment above.
FFS, makes me wanna throw a party & invite all the weird, wonderful, silly people we know. That'd generate enough silliness to make the whole Great Lakes region happily glow with it.
John Paragon was aptly named. RIP you divinely suave and debonaire pair.
I admit, I haven't seen the Gong Show before other than a handful of clips. It was before my time, and never saw it on re-runs.
I too was like, "What is this guy's deal with the hat?" And while I didn't find an answer per se, I found a Halloween costume with mask with said bucket hat, and figured it must be his thing.
Make sure to catch a few with the recurring character, "The Unknown Comic". We used to watch the show as a family when I was young.
He eventually began doing that with every single hat he wore. It's sure a silly way t'wear a topper!
OMFG So much this! TUC was a genius.
Parenting: They Were Doing It Right!!!
This topic was automatically closed after 5 days. New replies are no longer allowed.