I'm more curious how an empty abandoned house can accumulate so much dust when nobody's been inside there in ages.
I lived in a sandy-dirt region of Florida for just over a decade, and I really don't understand why these folks don't just empty their backpacks and shake them out?

Of course, having a little sand at your disposal can be helpful in tight situations.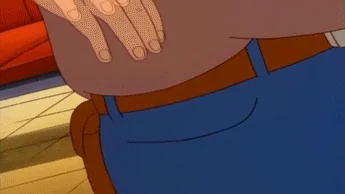 I live at the beach, so the sand isn't a mystery. I only had bag lint living in the north. Hrmmm…
Every house is slowly decaying and creating more dust particulates (not to mention all the dead critters). Also in an occupied house, dust is more likely to be suspended in the air just because of people moving around. No people moving around means the dust will settle quicker and stay there.
(I must admit, that's what I suspected.)
Well. I do have bag sand in my current bookbag, which is due to setting it down recently on some sand at the beach.
However, this does not account for prior bag's bag sand. And the bag before that, and the bag before that.
I guess one advantage of Kansas - not a lot of sand, thus I don't really have bag sand.
I do have sand bags! Badum, ching!
It never ceases to amaze me how much sand accumulates in my gym's jacuzzi, hundreds of feet from any outdoors, and 4 hours from the nearest sandy beaches. If that is any indication, the answer is clear:

Seriously though, I'm pretty sure it's from the slowly degrading cement pool deck outside getting stuck on people's bare feet. There is more sand in concrete jungles than actual jungles.
I hope the law deals with them in the harshest manner possible, for stealing sand and harboring it in their backpacks. Claiming that 'it just appeared there' is no excuse.
I swim laps in a high school pool. Every semester they throw the kids into the pool for a few weeks of gym class. You wouldn't believe what ends up at the bottom of that pool. Thank god for clorine.
I've swam in public pools. I believe it.
Not to mention all our good topsoil blew away almost a century ago…
How does sand accumulate in backpacks?
Well, when two grains of sand love each other very very much…
We got a '34 wagon and we call it a Woody
It ain't very cherry, it's an oldy but a goody
This topic was automatically closed after 5 days. New replies are no longer allowed.