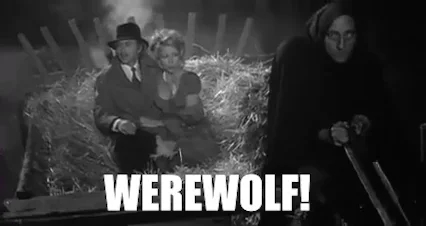 UPI has "Paul" for half the page, but it's "Phil" on the Facebook page and in the Fox affiliate story. Maybe it turns back into Paul when it gets taken down for costume changes? 9 1/2 feet tall would be correct for crinos form.
FB page says "Phil the werewolf" not Paul. WHAR R THE EDITORS?
I don't think I'd love living next door to a year-round Halloween decoration, but I know better than to Streisand my way into it staying there out of spite.
There was a Home Depot giant skeleton nearby that stayed up for over a year a while back. Decorated and posed a bit differently for every holiday and it was fun to watch what would come next.
Relax.
Eventually high school kids will steal it and bring it to the woods where they have bonfires and keg parties.
I like how we can like it for different reasons
Okay, but why Phil? What is the significance?
Hmm. Larry the Lycanthrope. Wilbur the Werewolf. Sherman the Shapeshifter.
Around Christmas, our neighbors dressed theirs up in Santa Claus gear a la Nightmare Before Christmas.
Maybe his full name is Phill McCracken?
We've got a neighbor who is all in on his skeleton – 4th of July, Pride Month, St Patrick's, Easter, the whole thing. It's awesome.
"Arrooo! Werewolves of the home owners association. Arroooo!"
i mean, she could've at least named him "Harry"!
A warning? Who gives a shit about that, as that obviously means there is no law against it and then they go on to say they won't request is removal.
The upset neighbor can try to get the law/ordinances changed, and go pound sand in the meantime.
I used to have neighbors with a family of skeletons on the yard, including a skeleton dog. They did seasonal themes, Christmas, Easter, and they wore masks for much of the pandemic.
What could have been the contents and consequences of such a warning?
Maybe it was a warning about the complaining neighbor?