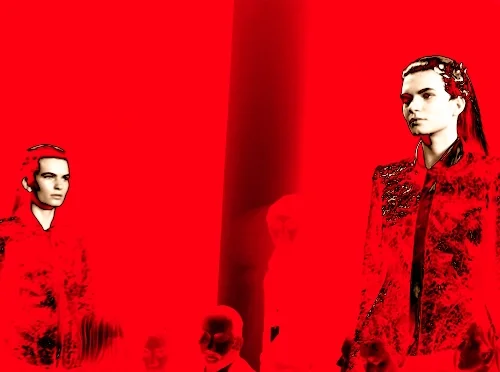 I saw the Minneapolis show last month, and it was one of the best shows I've ever experienced. Just superb.
Second this, was a great show!
My cat Ralf walked on my keyboard and I hit Delete on my comment as I moved her away. Boo! Arrgh!
Anyway, I noted that Kraftwerk deserve their accolades as being "more influential than the Beatles" in The Guardian and I can assure fellow Boingers that seeing them should be a bucket list item.
We had fun at the show. We Krafted our own uniforms, who knew that it would be so freakin' difficult?
I'll be seeing them when they come to Seattle in (*checks calendar*) 6 days. I am somewhat concerned about my seats. I ended up with seats really close to the stage which would normally be awesome of course, but with the multimedia aspects I'm concerned now that I may have made a mistake with that choice. I guess we'll see.
I'll report back next week.
One of my teen frustrations was that I was too young to go to Tribal Gathering in 1997, where Kraftwerk were one of the headliners. I don't think there was another opportunity to see them perform at a rave in the UK.
The Youtube comments claim that the techno stages shut down during the performance because all of the DJs wanted to see them.
Well, whenever I get my time machine for going to shows I missed because they happened when I was too young, I promise to come pick you up and take you to that.
Saw them last month in Boston. Amazing!
I feel ya. I ended up missing Kraftwerk 3D in my city because the only seats available were on the side stage overhangs.
Get your tickets now if you are thinking about going!
This topic was automatically closed after 5 days. New replies are no longer allowed.
For anybody that's interested, my recap/thoughts are here: