Is there a lot to be read into the somewhat jarring use chipmunk voice mode? ("Aaaaaalvin!")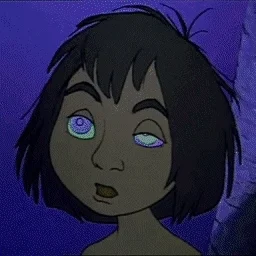 Wow that was outrageously cool. I'd heard of this, but pre-Youtube hadn't ever seen - Thanks for this!
I saw a big show of her work in a stuffy fine art museum. I decided she was a great artist before I had a chance to really look at her work, because as I walked in - the crowd was laughing and swaying and talking to strangers and meeting each others eyes with smiles. Everyone in the gallery was just so childishly happy. I still get her cover of 'Wicked Game' stuck in my head.
Yeah I'm not picking up what she's laying down. But to each their own…
Even at the price of nothing, I want a refund having watched this.
It reminds me of so many video "art" installations I've seen, and not been charmed by.
To some, clearly it's refreshing. To me it makes me think that the art has little or nothing to do with the concept or execution, but rather the art of convincing a curator to put it in an exhibition, and in getting the public to look at it with the awe and appreciation of admiring the Emperors' New Clothes.
So this is what a video about the female body looks like, is it?
Meh.
Sorry, but I didn't have the proper chemicals on hand to make sense of that. Art is a means of communication but some "artists" are only capable of gibberish.
"About the female body"
Possibly.
But how is one supposed to infer it's about the female body?
Just because they appear to be female and have a body?
Without familiarity with the artist, their history their works and themes any such message is completely lost - to me at least.
I don't dispute, though, that the video might be aesthetically appealing to someone.
Generally in the fine art world, for good or ill all art made by women artists where they use their body in a visible way such as self-portraits or performance art, and/or where the bodies they often depict are women or feminine… is always about the female body because that's what's being represented in the art. FWIW though representing femininity in art is something Rist definitely talks about being a focus in her work and in her sort of role as an artist.
For me personally, when I was in art school I remember studying her and in that context I was taught in no uncertain terms that this was the horrible crap feminism had unleashed on us when it destroyed the world. And… because of that… I fucking love it.
Interesting – my memory may be flawed (and there's a really strong chance it is) but I remember seeing this as an installation and I swear the singing was not sped up. I wonder if she did a variation on this, but I am certain that was the title used for the work I experienced. I've seen lots of her work and I may be conflating more than one piece.
Nevertheless, it's always fun seeing her work. Reminds me of being wide-eyed as an art student back in the day and less jaded as I am now. Being wide-eyed is freeing.
Always? There's absolutely no other purpose for art including no purpose (l'art pour l'art)?
Gibberish to you, maybe. But surely you don't mean to say that all understandings are universal and immediate? Or perhaps you're saying that you don't get it so no one gets it and if people say they do they're lying…
This topic was automatically closed after 5 days. New replies are no longer allowed.