"Live free or die? Now you don't have to choose!"
I'm over here in California really rooting for them. Really!
Why is this a surprise? Policies hostile to the poor, against vaccination and in favor of guns will inevitably lead to shortened life expectancy. On the flip side, more urban states tend to lean Democratic, and higher pollution levels in cities should also have a negative effect, but nowhere near like that of the GOP.
The only part that conservatives will hear:
"So… you mean Black folks?"
Unfortunately, the fascists will take all these facts and twist them into more "evidence" for their Great Replacement/white genocide conspiracy theory. I have no doubt that non-millionaires who keep voting in leaders who demonstrably make their quality of life worse will buy into it as an explanation, too.
[Repuposing stolen meme]

Did you ever stop to consider that maybe it's because people are being raptured?
It's not surprising, but these realities need to be highlighted, since people seem prone to believing that the GOP is better at governing and better with the economy. They are not, and any evidence of that should be part of the public conservation about that.
Interesting that the one liberal policy that's deadly is the one gaining traction. I guess there's some consistency there!
Devoutly religious people believe they will experience an afterlife in paradise. Getting that reward sooner is a feature, not a bug. I don't see why they waste any money at all building hospitals – it could be going toward building more pickup trucks!
edit: . . . and guns, to improve their results even more.
Except they refuse to listen to anything outside their echo chamber and the Great Prophet Trump. It's not a political movement, it's a cult. Like Jonestown, drinking the Kool-Aid is how you demonstrate commitment.
The part I don't understand is why the GOP is so intent on killing off its base, specially the old, who disproportionately vote Republican.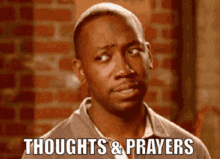 I know centrist liberalism will never do enough to solve the problems of the world, but would you care to elaborate?
"Thems that die'll be the lucky ones."
― Robert Louis Stevenson
Sounds like a very roundabout way of saying "the GOP is losing the youth vote."
Nah. Dying young reduces the number of old people, not the number of young people. In a state where people already usually vote Republican when young, fewer older people means less need to support said older people, which means they can tax the young even less! /s
Of course, once they've decoupled "winning elections" from "what votes people cast" they won't have to worry about all that anyway! (sadly not /s)