I realize that they don't have the lungs to do so; but if ever a fish spent the entire video screaming in agonized desperation it was that barracuda.
Nature is a harsh jerk. Imagine all the fish swallowed whole by the barracuda.

I had the opening guitar riff playing in my head the entire time I was watching that.
Maybe it would be screaming "this view is amaaaaaaazzzziiiiiing!"
I wonder if "fishing" would be nearly as popular a pastime if fish could scream.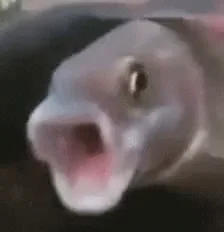 (I know, I know, I've seen the rest of that video, he's not screaming at a human.)
Mr. Cuda's scream would be much toothier.


(decided to go with this image, rather than one of me removing a hook from ol' Barry's toothy mouth. seem to get at least one every time we go out. and no, if fish could scream, i would still go fishing. they're just too damn tasty.)
If trees could scream would we still chop them down? Well, maybe if they screamed all the time.
Well, given how we often treat screaming animals and even other humans, I suppose we'd just stick something in or on our ears and get on with it.
Man's got to eat and feed and shelter his family so yeah if fish and trees screamed we'd still catch and cook them using the screaming trees.
The pelican shots are amazing. The added drama and commentary (osprey bias) were less welcome.
Dude, we're no longer living in the troglodyte era.
I scream, you scream, we all scream for the icy stream!
Not all houses are concrete apartment blocks.
Homo sapiens still hunt and fish for other reasons than just recreation.
BOT: Do Ospreys actually use there wings to swim underwater like some seabirds do? From the footage of it emerging it looks like it took a deep dive to catch that fish.
I believe that her point was that the outdated trope of men going out and hunting for the family is pretty out-moded, and in fact that the whole idea of the male bread winner, with work standing in for hunting was never really all that common anyways (for most of history, it's almost always been collective work that supports the family, not women and children "mooching" off the work of men).
Very, VERY few people today (at least in the west) depend solely on hunting to provide food. Most of the hunters I know might do it to supplement, but none only hunt to feed their family. In fact, historically, gathering and then gardening often provided far more nutrition for the family unit.
This topic was automatically closed after 5 days. New replies are no longer allowed.