He's currently heading a Kubrick stare seminar for his co-cons, telling them they can explode the judge. It's not like they haven't fallen for his line already.
I'm sure Trump probably thinks this is a win for him, since I'm sure he sees himself as a master manipulator of the media… but he's really not. This might very well backfire on him…
Yeah I've been hoping for this actually. This isn't a situation where the crew is there to make him look good. People who are still even semi-spellbound need to see him as he really is.
And if he knows the cameras are rolling, there's no way in hell he'll follow a lawyer's advice to STFU.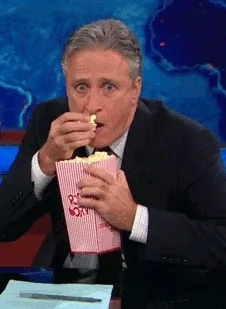 I guess this is a significant difference between Trump and, for example, the O.J. Simpson trial. O.J. had the best lawyers money could buy, they came up with a brilliant strategy to take advantage of the televised trial, and O.J. followed his lawyer's instructions to the letter.
Even if Trump had the very best council (he doesn't, the best lawyers have wised up to him and know he'll never pay them) he's such a megalomaniac that he just can't STFU even when it's obviously in his best interest to do so.
Like sunlight, camera lights sanitize.
Apparently a Trump deposition was released today.
This may wind up being the most entertaining TV of the decade
I expect this is going to be a great case study in why Trump's hogging-the-spotlight/riling-the-base approach to the media works better for him as a political strategy than a legal strategy. Unless he's bound and gagged in that courtroom his lawyers are going to have a helluva time keeping him from kneecapping his own defense for the sake of televised drama.
So for the benefit of us non-USAnians, is allowing cameras in a courtroom common for important cases? Rare? Unprecedented? Not clear from the article.
Different rules for different jurisdictions. That is why there will be cameras in the Georgia case but not in Trump's Federal trials.
Every once in a great while there is a court case that basically becomes a primetime television show. That's what happened during the O.J. Simpson murder trial back in the 90s.
Requesting a Hannibal Lecter restraint dolly stat.
I'm really glad this will be televised, in particular for its historical interest. I think it a good thing that we have video of the Watergate trial.
His desire to grandstand for the camera is pretty much in direct opposition to what's smart for him to do legally, so… yeah, this is going to be fun. Oh, but I wish I could see the drama behind the scenes, as his lawyers earn their money the hard way, trying to keep him under control (and often failing, if history is any guide).
As much as I want to see him squirming in his seat at a trial, I'm loathe him to get any more free media attention. He still gets far too much. The only thing I want televised is his sentencing.
On their YouTube channel? Very convenient. Don't have TV/cable and don't want it. Glad to know I can just pull up the trial on another monitor to see the little orange turd squirm while I work or play games.
I know they're not allowed to, but monetise that and you can build yourself a new courthouse with the proceeds…
'Welcome to the Trial of Donald Trump, don't forget to mash that Like and hit that Subscribe button. Before we get started, a big thank-you to our sponsors 'Turd-B-Gon' drain cleaning services - and Surfshark.'