So this is why he went missing recently… he was trying to avoid being served…
Think about how much power, resources, and wealth, and support from some kind of institution, one has to have in order to "go missing" for so long, but continue to live inside of a society. Insanity.
But but, Tom Cruise's smashing success saved Hollywood!
/s
Courts have limited patience for that kind of thing. If one could avoid legal accountability indefinitely by playing hide-and-seek with the process servers then everyone would be doing it. Glad that this delay tactic is finally played out.
having sent the papers via certified mail will do.
The great and powerful cult leader, undone by a hero in shorts and a blue pith helmet.
In a way Miscavige is just carrying on a grand tradition established by L. Ron Hubbard, who spent the better part of the 1970s living on the lam to avoid accountability for crimes committed in France and elsewhere.
"miscavige" sounds like some kind of offense anyway.
"We find the defendant guilty of extortion, simony, battery, barratry, and miscavige in the first degree."
Recall, too, that anyone who is legally an agent for you can accept service on your behalf in a civil suit. And he has this entire organization to do his bidding – and he has a large number of people who clearly his agents. For them all to be so disciplined as to know (i) to expect legal service and (ii) how to consistently avoid it is really quite a thing.
Admittedly, being Attorney General for your state does seem to help a lot
If the court is in error and he hasn't been avoiding service that can be cleared up in just a few minutes if you let us know where we can find him…
children are forced into indentured servitude until adulthood. At which point they are stuck on Scientology's famously decrepit, asbestos-strewn ocean liner in international waters with nothing but a contract to sign.
Asbestos issues aside: what the actual fuck? It turns out you can pretty much ignore all the rules, if you're a sufficiently rich organization with assets in international waters, I guess…
It's been a while since I thought about this sort of appeal on service of process (if ever), but I have to believe the standard of review to overturn a trial judge on this point is somewhere between "Clear Error" and "Get the Fuck Out of My Courtroom."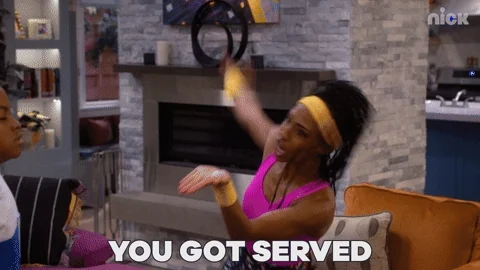 So can they require him to attend a deposition? IANAL but I assume they can do this? That would be pretty hilarious (for me) to see this guy have a choice of being dragged into a public appearance or lose the case by default and have his "church" pay up.
Court: We will be willing to conduct a hearing on the validity of the proof of service, however please inform your client (David Miscavige) that he "must be present to win."
The Freewinds is not exactly the Love Boat.
Hubbard had his own boat.
The Freewinds came later.