"Fist city" is particularly badass. Happy birthday, Ms. Loretta!
I was vaguely aware that Loretta Lynn is a country singer but I mostly know her as host to an annual Motocross race.
I've often wondered how that came to be but when it comes down to it, I think I'd rather keep that sense of wonder intact than possibly spoil it by learning that it's something prosaic.
Anyway, I have this notion that she's a lovely person and I wish her a happy birthday.
Holy hot damn, that is awesomeness plus. Happy B-Day Miss Loretta.
There's a strong association with motor sports, the south, and country music in the US. And of course, country music is in part inspired by English, Scottish, and Irish traditional music, since many of the people who ended up in Appalachia were from that part of Europe. It got mixed up with the culture that emerged out of enslavement, and it gave us many of our roots forms of music.
She is!
Happy Birthday, Loretta!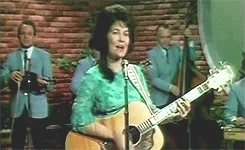 It's also bullshit. Every part of this country had bigotry, if not enslavement. While it can be argued (but I don't buy it) that the south had a kind of a sonderweg with regards to race, it also needs to be remembered that one of greatest movements for freedom and equality was driven by southern people. And the music we all enjoy today, much of it originates down here…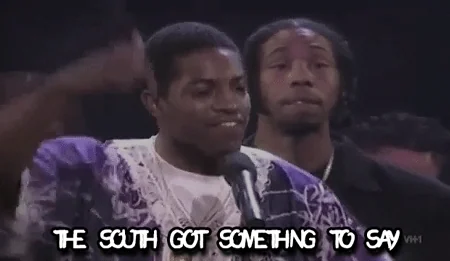 Country music by male artists:
I love God, guns, whiskey, trucks, and making sweet sweet love to my woman
Country music by female artists:
I killed my husband because he beat me one too many times, what am I going to do now?
My only complaint is that the sound engineer should have adjusted the volume on all the microphones so that Loretta Lynn didn't have to scream over the drums, etc. It's hard to sing between music styles like that, and the difference in volume with the instruments is a big reason why.
I love Loretta Lynn but I could watch Sissy Spacek covering Loretta Lynn all day long. Coal Miners Daughter is one of those movies I will watch every time it's on. Same thing with Selena, Buddy Holly Story, La Bamba, The Temptation mini series, and What's Love Got To Do With it.
I also don't like Country or Western music but my wife does so I do listen occasionally when she has it on.
I'd suggest that she turn you on to WMOT 89.5
It's the KEXP equivalent for Nashville. Covers a wide spectrum of styles depending on when you tune in.
My daughter happened to mention that she's going to fill in for someone else's radio show (she normally does classical), so she'll be DJ'ing country tomorrow morning. We talked about ways to shape a cohesive program: all women artists, all Black artists, country artists doing covers of non-country songs (Johnny Cash and "Hurt" is an obvious example), a representation from each of the main sub-genres (bluegrass, etc.), a representation through the decades, etc.
My point is: there are so many different ways to approach country music that it's a good indication there's going to be SOMETHING for everyone.
Send her this this link for some inspiration:
Classical to Country! I love it.
From You Never Even Call Me By My Name:
Well, a friend of mine named Steve Goodman wrote that song
And he told me it was the perfect country & western song
I wrote him back a letter and I told him it was not the perfect country & western song
Because he hadn't said anything at all about mama
Or trains, or trucks, or prison, or getting' drunk
Well, he sat down and wrote another verse to the song and he sent it to me
And after reading it I realized that my friend had written the perfect country & western song
And I felt obliged to include it on this album
The last verse goes like this here:
Well, I was drunk the day my mom got out of prison
And I went to pick her up in the rain
But before I could get to the station in my pickup truck
She got run over by a damned old train
I don't like country music. Except for Willie. I like him. And Dolly. And, of course, Loretta Lynn is awesome. Oh, and Chris Stapleton is pretty good. Some of Merle Haggard's stuff. Chet Atkins. Roy Clark, damn that guy could play guitar. Waylon Jennings. And who doesn't like Johnny Cash. Or go way back, I like Hank Williams. Oh, and bluegrass I like, if you want to consider that a subgenre of country. But yeah, I don't like country.
In all seriousness, if the music is good, I like it, regardless of genre. If it's overly formulaic drivel, I probably won't, regardless of genre.
Another absolute legend. Died of leukemia, way too soon.
Most country music 1975 and onwards I pretty much give a hard pass. That's not to say that there aren't good songs out there, but my personal taste finds them few and far between so I no longer bother and don't miss it. In addition, they all sound the same to me. Sir Mashalot: Mind-Blowing SIX Song Country Mashup - YouTube
However, going back to the '50s and '60s, bluegrass, country, blues, rock and roll (in its infancy), there was just this cross-genre mixing that had music that I enjoyed in every genre. Heck, one of my favorite, and suprising emotional/moving songs, is a bluegrass song by The Dillards (The Darlings in the Andy Griffith Show):
Enough of my ramblings, I'm going to go shake my fist at some clouds…
Article about when Loretta Lynn suggested we shouldn't vote for someone with a foreign sounding name.