I think you mean the Terran Empire…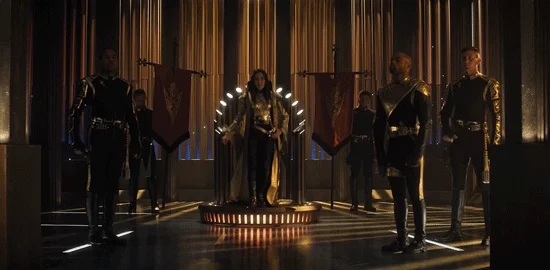 The Futurama term "Earthican" was a great way of conveying that American-style patriotism, nationalism and xenophobia was still alive and well in the 31st Century, but those traits now applied to the planet as a whole instead of just the United States.
They even poked fun at the Birther movement (in which a political candidate's eligibility was questioned when his detractors demanded to see his Earth Certificate).
Duolingo purged its of stories of some magical and SF elements some time ago-- I guess to appease the home school market–but if you know where to find them, you can read them, get quizzed on them and earn precious XP.
@teknocholer
but how does it taste?
"They ain't never tasted Terran before!"
https://www.sothebys.com/en/auctions/ecatalogue/2018/from-earth-to-fire-l18301/lot.338.html
A copper 'turtle' soup tureen, probably English, circa 1800
I prefer the term "human".
As long as any bad guys use the proper epithet.
"Pathetic earthlings. Hurling your bodies out into the void, without the slightest inkling of who or what is out here. If you had known anything about the true nature of the universe, anything at all, you would've hidden from it in terror."

came here for the Tureen, wasn't disappointed
also I like "Tellurian" because it reminds me of "lurid"
those lurid Tellurian Tureens are tearin' it up on Terra
"Human" and "Terran/Terrene/Earther/Earthing/etc." aren't necessarily interchangeable terms in science fiction because many sci-fi universes include humans who live on other planets and/or non-human citizens who live on Earth.
One word is used to denote a species, the other denotes an individual's planet of origin.
Brin's Uplift series is a case in point - humans, chimps and dolphins are all spacefaring earthlings in those books
love those books!
Captain Creideiki may have been a 'fin and ship's surgeon a chim, but the Starship Streaker was noted as a Terran ship.
been awhile since i read those, though.
This topic was automatically closed after 5 days. New replies are no longer allowed.