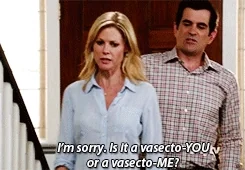 Heyo! raises hand
Got it handled in preparation for moving back.

My own, very much appreciated, representative to congress Pramila Jayapal has suggested pursuing a national women's strike to restore the bodily freedoms which have been stolen from them. This as a recollection of the 1975 womens' strike in Iceland. I think it's a great idea! When a representative government overtly refuses to allow representation there are few better peaceful actions than …strategic inaction. (and if that fails, perhaps it's time for Lysistrata)
Lately I've been thinking, every time a conservative cries out, "The word 'abortion' doesn't appear in the constitution!" - well, the word penis doesn't appear there either. I guess it's time to cut them all off?
Even when going halfsies, it's still a vas deferens.
Where's the 72 hour waiting period? The literature and brochures showing photos of dead sperm?* A Jack Chick tract claiming that God demands you to spread your seed?
Not even close to equality.
EDIT: * No, I don't need any links to those pictures.
From my initial reading of the decision; the weasel phrases to use are "deeply rooted in this Nation's history and tradition" and "implicit in the concept of ordered liberty."
As long as a historically untrained legal technician can see something in the rear-view mirror through a haze of nostalgia; then boom "deeply rooted in this Nation's history and tradition"! If it strikes him as weird and scary and probably something where it's the children who are wrong, then obviously it's an unenumerated non-right; clear as day.
The only real question would be whether the justice in question is feeling gutsy enough to go full 'judeo-christian values' and treat us to some irrelevant rambling about root/penis connections going back at least a far as medieval stained glass before arriving at the ordained conclusion; or whether it would just be asserted without much comment and passed as quickly as politeness allows.
I scheduled mine


Uhh… congratulations?

I mean the stated goal is to completely get rid of birth control. Back alley vasectomies with pictured pruning shears would be a thing except the just for men club.
There's always unintended consequences. I'll bet this isn't what the "white replacement theory" racists expected to happen…
Thank goodness I got in ahead of the rush (seriously, I got one late last year). But it's fucking terrifying that this theocratic garbage is being forced on us all by a relatively small minority of frothing-at-the-mouth religious zealots. The system is beyond broken and now the door is open for more attacks on basic rights.
that phrase is definitely not in the constitution
They are "originalists" only when it suits them. "Them" being White Men and those who kneel before them in fellative poses.
And in the conservative background noise there's a lot of whining about god not being in the classroom. They want prayer for christian hypocrites to better beat down kids. If the nazis get back in power we're headed back to the 1950's myth of things were better then. Yep it'll be a bummer for POC, immigrants, LGBTQ folks, anyone that doesn't fit into the WASP lockstep mentality. Religion is one of our worst social ills.
The absurdity being that he said that despite the fact that abortion is "deeply rooted in this Nation's history and tradition." Even if he had been correct, it wouldn't have been a justification, but it feels so much worse when ignorant nostalgia replaces historical knowledge as the basis for decision making.