According to Reuters, the assailant was asking "Where's Nancy?" but not politically motivated at all.
Also,
members of Congress from both parties have experienced a surge in threats and confrontations,
I suspect there is a pretty strong partisan difference here.
Well, one party has approved of booing politicians in restaurants, the other party supports kidnap and murder of governors and and hanging of insufficiently loyal henchman, so it's really one of those both sides things.
"The Pelosis have owned a three-floor red brick townhouse in San Francisco's exclusive Pacific Heights neighborhood since 1987."
Pacific Heights? I hear it is a violent neighbourhood.
All the best to Mr Pelosi making a quick and complete recovery.
Yep Americans, this is where the f@ck we are now.
Did you forget an '/s' tag?!
Absolute assholes.
I'm a carer for an 86-yr old cantankerous conservative with (certain) views.
He has occasionally risked a black-eye in the street, fronting up some young-uns.
But I wouldn't wish this shit on anyone.
I was hoping it was unnecessary, but yes, /s.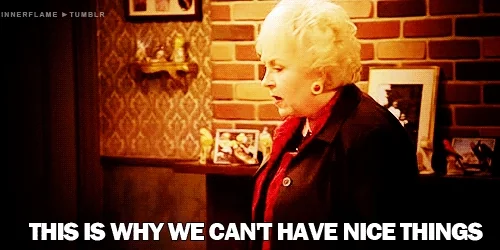 As an aside, the Pelosis have been married for almost 60 years now. I wonder how many politicians from the party of Traditional Marriage™ and Family Values™ could say the same while they bash her for promoting her deviant "San Francisco values."
I believe you're correct, in that the threats are likely overwhelmingly directed at Dem politicians.
Further, I'd wager the vast majority of those MAKING the threats identify as GOP, and I bet it's not even close. They're more than willing to turn on their own if they fail to go along with absolutely every batshit scheme and/or conspiracy theory. For reference:
Plain and simple, if you support Trump, you support the attacking of his "enemies" that are carried out by Trump's rabid Cult Members. Terrorism.
Yep, that's what this attack was. I'm sure other Dem politicians will now at least sleep less well at night.
I also bet that Pelosi is more anxious than ever to punch out Trump.
(hey it's a t-shirt!)
Also, can we talk about the rampant misogyny that fuels violent animosity toward female politicians in particular?
Pelosi…AOC…Whitmer…the OG target, Clinton…
They've all been demonized to the extreme by the right, accused of everything from murder to pedophilia to sipping toddler blood. And there's a huge audience waiting to lap up this lunacy and to righteously do whatever is required to stop them.
Some male politicians are regularly vilified; but with a few exceptions (hello, Mike Pence), the undercurrent of violence just isn't there. As a rule, they want to jail them, not murder them.
It's also worth noting that, unsurprisingly, the US doesn't have a lock on this. But per my own personal anecdata, there has been a sharp uptick stateside. It's fucking repugnant.
It'll be very interesting to hear what certain members of Congress say about this.
Will it though? We've all seen their library of condolence cards ad infinitum.
McCarthy hasn't said a peep btw.
Can parents please stop picking "Wayne" for their kid's middle name? It seems to lead to a lot of problems.