I imagine that this will put a wet blanket on the Nashville bachelorette party scene.
"'change' their (small) minds with economics" is certainly a viable response. Yet really need to get the sports/entertainment industry on the side of progressive liberties for it to work.
Here's a map depicting anti-trans states from this hard working advocate: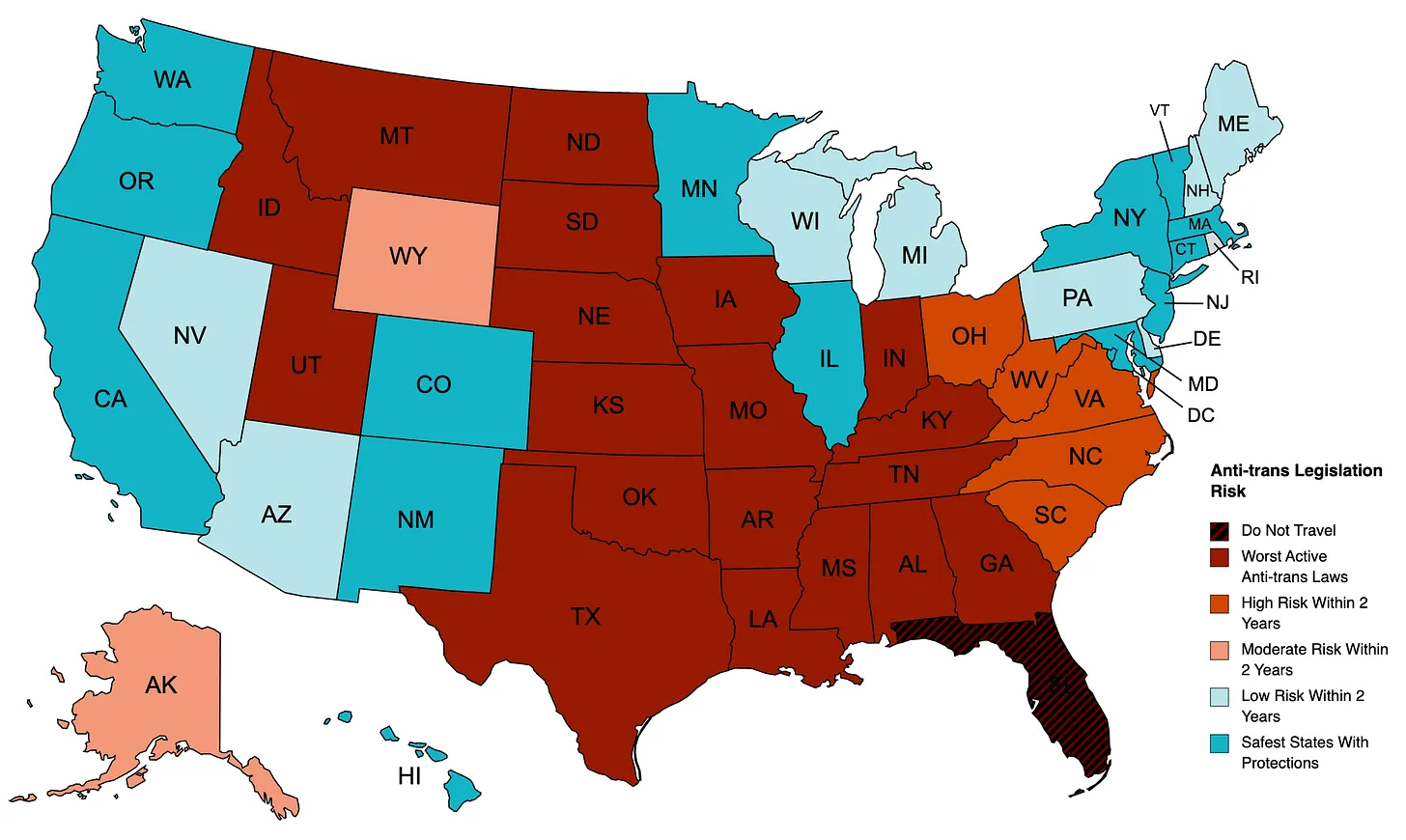 Avoid doing business within these states as much as you can, until and unless they realize that medieval times cannot return.
Except for the good kind.
Seriously, though, I agree: starve these backwards states of tourism and travel and make it clear why.
Probably the only positive outcome in this whole shit show.
Make the red states totally red, financially as well as politically.
And they're not even really exceptions - they're potential defenses for the doctor when they're prosecuted for performing an abortion. So in practice, doctors don't recognize them, because they don't want to be put on trial every time they perform a medical procedure.
(Exceptions not existing in practice is true of all the states that have banned abortion - even when the laws explicitly carve out exceptions - but this is the most extreme version.)
They already are. There are one or two exceptions I can't remember at the moment, but otherwise it's blue states that overpay federal tax which is then transferred to red states because without the extra funding they'd be in even worse shape than they already are.
Start cranking up vertical farming operations in the blue states to reduce food imports from those states.
California out produces all the other states in agriculture, probably combined.
For that side of the country. The east coast relies on Florida for strawberries (which is their second largest cash crop) for most of the year
My children get an orange in their Christmas stockings every year as a reminder that when I was growing up, getting citrus (from Florida, usually) as a holiday gift was considered a big deal because of how expensive it was.
It is possible to live without strawberries in the wintertime (or, now, import them from Central and South America) rather than rely on Florida. In fact, it's much nicer to be thrilled with each new season and what is now freshly available, rather than seeing the produce section of the local mega grocery store stocked identically 12 months of the year.
And, as you say, greenhouse vertical farming solves a lot of problems for those of us in colder climes.
California ranks first in the United States for agricultural cash receipts followed by Iowa, Texas, Nebraska and Illinois.
But what's being grown in the 4 non-Californian states? Corn, wheat, soy, and alfalfa mostly.
I was talking back when shipping was more difficult and expensive, and thus things like citrus didn't show up in the upper Midwest in the winter except as a very expensive gift.
This topic was automatically closed after 5 days. New replies are no longer allowed.