If you are looking for kids books with inspiring historical (and current) figures, I can recommend the. https://littlepeoplebigdreams.com/ series. Good illustrations and a good jumping off point for discussion (e.g. Maya Angelou has "people didn't treat her well" which we will use to introduce the concept of racism).
Each book has a few photos of the person and a few paragraphs with more details at the end, together with a list of books to find out more.
One thing you discover as a parent is that there's a whole genre of "children's" books that are on the market that exist either as "look at my future genius" jokes or on the vain premise that buying them will make it look to other parents like you're doing your kid right.
And so forth.
I'm always amazed that people think writing a children's book is easy and quality doesn't matter, because they think kids are just dumb, simple humans or something. (They're always wrong, the book is inevitably terrible and quickly forgotten.) Very much this kind of energy:

There are plenty of jobs that people think incorrectly are not actual skills. Many of them are jobs done predominately by women. I wonder if that is a coincidence? /s
Journey to Freedom: Condoleezza Rice
All one has to do is see which books stand the test of time, and which are as you say, quickly forgotten and fall out of print… There is a reason kids today still read Dr. Suess, Judy Blume, and Maurice Sendak and not stuff like Dick and Jane…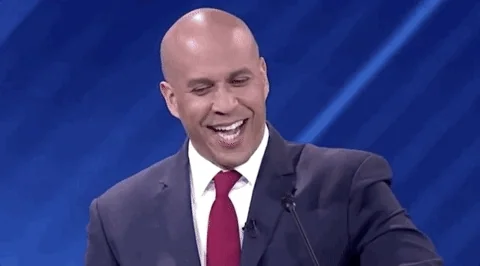 You say that with sarcasm, but plenty of people just can't see it, sadly.
Those "baby" books are gags, right? Blockchain for Babies? Quantum Physics for Babies? Gimme a break. Someone's having a laugh separating parents from sixty dollars, right? Am I right? Please tell me I'm right. As if "Baby Einstein" wasn't scammy enough.
As for writing kids' books: during my freelance illustrator days people were constantly asking me to illustrate their book project–on spec, of course–to convince a publisher to pick it up (no practical print-it-yourself options back then). Invariably their project was a children's picture book. I honestly don't think they believed writing a kids' book was easy. They were simply convinced their book was as good or better than anything currently in the stores. Which they never were. The books always had a simple, plot-free story that was obviously inspired by a beloved pet or child. The underlying assumption seemed to be that this cat or this child was the cutest, funniest, most lovable creature on earth, and everyone out there would think so too if they could only read the book. Can't afford to pay you for the illustrations now, but think of the royalties you'll earn!
I admit that while a few stories offered morals at the end, no author came to me with a political message book. Simpler times, I guess. Though I am reminded of one guy whose rambling rhyming romance between a squirrel and a chipmunk ended suddenly on the last page when the hero was shot dead by a kid with a rifle. I usually kept my mouth shut but this time I had to ask "What the hell?" The author gave me an angst-ridden look and said, "Because that's how life really is, isn't it?" Shame no toddlers got to share his life lesson.
Just like how the hatchling in Are You My Mother? flopped around blind and helpless after it fell out of its nest until being killed by a neighborhood cat.
Exactly correct. Kids books are harder to write that adult books.
It's not just political figures but also celebrities. It's all about cashing in on names and not the actual value the stories within might have for kids. And do these books sell? Yes! If they didn't, the publishers wouldn't be so willing to print them. And books by known quantities thrived during the most locked down period of the pandemic when people couldn't browse the aisles of the bookstore.
There's absolutely this as well. Bookshelves have long existed as a means to signal to others what a well informed, sophisticated individual you are. That would naturally permeate to your children's bookshelves as well. My family has fallen victim to it and has Introductory Calculus for Infants and a few of the Baby Loves… books (Thermodynamics and Aerospace Engineering just to name two) peeking out. We also have Ibram X. Kendi's Antiracist Baby, what is totally well meaning but not at all engaging for my kids. But it certainly signals I'm leading my kids down the right path because others can't just sit back and simply behold the entirety of my amazing parenting.
Sometimes the politicians and celebrities self-publish, either as a vanity project or part of a money-laundering scheme.
Especially jobs involving writing, for some reason. It's like people think, "I'm literate, so obviously I can write." To misquote a Monty Python sketch, "I know all the words, now I've just got to get them in the right order." (It's sort of a sub-problem that creative work in general has - it gets seen as a talent rather than a skill. So it's not seen as real work, even when people acknowledge they don't have the ability to do it themselves. But it's worse for writers because literate people often don't even have the self-awareness to realize they don't have the ability.)
And then when you have the overlap between "generally (and mistakenly) seen as not difficult" and "done by a woman," the skills get totally dismissed.
Although it's complicated by the fact that adults are the ones deciding what children should read, so some bad stuff gets propagated and persists more than it should (and causes problems by discouraging children from reading, ultimately). That we all know what "Dick and Jane" even is, is evidence of that phenomenon.
Jack sells his cow for magic bitcoin. He then uses the proceeds from that bitcoin to take over the evil billionaire's crypto server farm. When the evil billionaire comes after him, he severs the billionaire's blockchain and sends him plummeting so hard he craters through the ground.
Or something like that.
There's a Python sketch, from their Matching Tie and Handkerchief album, about an actor talking about his craft:
Sir Edwin: Ah, well, I don't want you to get the impression it's just a question of the number of words… um… I mean, getting them in the right order is just as important. Old Peter Hall used to say to me, 'They're all there Eddie, now we've got to get them in the right order.'
I suspect one of the sketches was a riff on the other, but I'm unclear which came first. (The Morecombe & Wise sketch aired in '71, and the Python album was released in '73, but the sketch pre-dates the record…)
That mouse better look out…
Propaganda. Its called propaganda.