He excelled at bringing nuance to villains.
His performance as Severus Snape can only be fully appreciated if you go back and rewatch the earlier films to catch some of the subtle tells about how he really felt about Harry, and why he felt that way (he was one of the only people who was clued in to Snape's backstory before the later books were published).
Alan Rickman was a wonderful and under appreciated actor. Even in the horrible movies he was in - like Robin Hood - he was still a standout. He didn't even get his first film role until Die Hard.
It's a damn shame he's not with us anymore. One of the many outrageous casualties of 2016.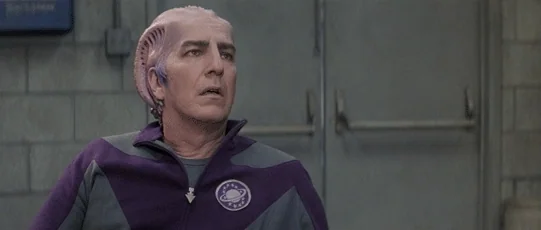 He practically carried that Tom Selleck western Quigley Down Under all by himself.
Robin Hood is such an awful film but every scene with Rickman is great. His scenery chewing just works so well - as if he's keenly aware how terrible of a film it is and feels the need inject some much needed entertainment.
Rickman's voice is like a silk serpent, with a razor rattle.
One of my favorite actors, I have yet to see a performance of his that I did not enjoy.
Rickman's performance is excellent, of course, but as the video discusses it complements the script and direction. Gruber is such a compelling villain because – despite their different styles – he's as competent as McClane. The writers and director make an effort to mirror them and the actors more than deliver on execution.
One of my favourite examples of this is the illustration of how both men are naturally aware of their surroundings. As McClane first makes his way through the under-construction part of the building, you'll notice him giving a slap to a centerfold pinup on the wall. This is not just a throwaway sexist joke, but McClane mentally establishing a waypoint in an unfamiliar and dangerous place.
Later, in the scene where he and Gruber first meet, Gruber gives him a false name that (as we only find out later) he spotted earlier on the office directory on the wall – a similar instinctive response on the part of the villain to orient himself and prepare for contingencies. And sure enough, right after Hans identifies himself as "Bill Clay" we see McClane glance at the wall directory to check and notice "Wm. Clay" in the listing (Hans is so sharp that he ID'd himself with the diminutive of "William"). It's one of the many nice touches in this amazing package of a movie.
"Shoot the glass!" was some diabolical quick thinking in a shootout with a barefooted adversary.
Though if your German henchmen need you to translate it to English in order to understand it, you really need to get new henchmen.
"What does 'The Hard' even mean, anyway?"
That part's simpler: The Cider, of course.