Mesus Christ, what an asshole!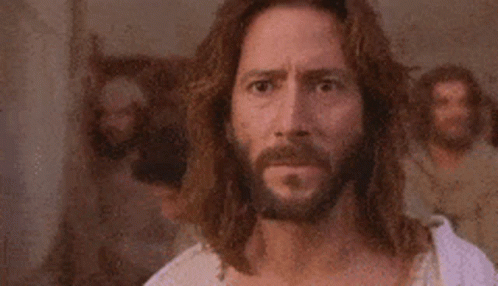 If the Holy Spirit is an intermediary between God and humans, conveying God's messages, then…God is a Nazi?
This is straight up blasphemy. She is claiming divine inspiration to post that shit, which is blasphemous as all hell. Do not drag God into your Nazi fantasies, you very, very unpleasant woman, you.
Monique LaGrande sounds just like the sort of person who would have children named Trebuchet and Bubblejet, and needs to speak to manager - now!
Matthew 12:30-32: "Whoever is not with me is against me, and whoever does not gather with me scatters. Therefore I tell you, people will be forgiven for every sin and blasphemy, but blasphemy against the Spirit will not be forgiven. Whoever speaks a word against the Son of Man will be forgiven, but whoever speaks against the Holy Spirit will not be forgiven, either in this age or in the age to come."
Apparently, in Canada, normal Bible-believing Christians spread hate by comparing marginalized groups to history's most infamous regime.
Well, it is Alberta, the Texas of Canada. Just goes to show that the fascist and Xtianist rot isn't confined to the U.S.
Exodus 20:16
Thou shalt not bear false witness against thy neighbour.
Now, it may be quite a few years since I last went to a church, but I always thought that breaking one of the Ten Commandments was a biggie when it came to sinning.
also
That is hardly normal
Don't Christians typically blame Satan when they do something bad? Saying the Holy Spirit is responsible makes me think she still feels this hateful nonsense was still a good thing.
That was how I read it too.
Finding out? Please, continue!
Maybe if she can convince a court of law that this so called "Holy Spirit" exists, it should take the Sensitivity Training on her behalf. (Attendance should be taken and required.)
Failure to concretely prove such existence should be seen as a tacit admittance that, no she her self is a complete asshole.
I grew up in that shitty, er city. The other LaGrange there is the MLA (Member of Legislative assembly, the provincial-government) and was once the Minister of Education and is now the Minister of Health. The two (according to hearsay are distantly related)
The MLA version of wackadoodle here was instrumental in enshitifying the education curriculum here, and seems determined to do the same to the health care system.
Sadly, this is the province where Trans kids in school were likened to feces in cookie dough by another politician just north of this story during an election, and… they still won.
Last month I attended the funeral for a friend's Daughter, a trans kid who died by suicide. I squarely place the blame on people like the two LaGrange's here, their politcal allies and all those who vote for them or carry water for their causes. I blame my past friends who casually joke about pronouns and attack helicopters.
I hate being here with family that say things like "This is Alberta and we don't put up with that here" regarding someone having two Moms, or Dads.
This place sucks, sorry. It does. It's not as bad as it sounds down south of the 49th, but it's getting close to the "hold my beer" stage.
I hope someone told St. Peter the Nazi bar story.
Yep. Her "Christian" position is that gays=Nazis.
Yes… for Nazis. The bible story of Jesus driving out the money changers from the temple courts likely feeds into the beliefs of white christian nationalism.
No, sadly, it appears the US has exported this hatemongering.
The one spirit I immediately think of which might cause anyone to confuse Nazi flags with the proud rainbow ones is methanol.
It's not good for anyone. The Nazis, I mean.
Methanol, OTOH, can geht useful for several applications.