Looks like it's a sleeve for a single by Franz Ferdinand, not a poster.
Okay. I was wondering what an assassinated archduke had to do with Trump
sheperd fairey is just the worst. like his asinine appropriations of important revolutionary images is bad enough. but his real crime to art is being just so boring that he makes banksy look novel and insightful
Hey! I took that picture of his mouth!
I like it except the tRump part.
"Fairey says he hasn't drawn a Hillary poster because although he supports her as preferable to Trump, she does not inspire him."
Also he doesn't draw.
18 inches x 24 inches Screen Print on cream Speckle Tone paper. Signed by Shepard Fairey. Numbered edition of 500. $60.
That's actually a very reasonable price for a signed first-edition print. All gone, naturally.
I actually saw the Hope poster before it went big (yes, I know…) and knew that it was going to be iconic. Say what you want, it was. Sure, maybe he's a one-hit-wonder (I don't know why I still see all those Andre The Giant stickers everywhere), but it stuck.
So which poster did he design for the Bernie campaign? I couldn't pick it out of all those on display.
I loved FF's first album, but that song really does nothing for me.
Seemed to be an unironically fascist image for Bernie: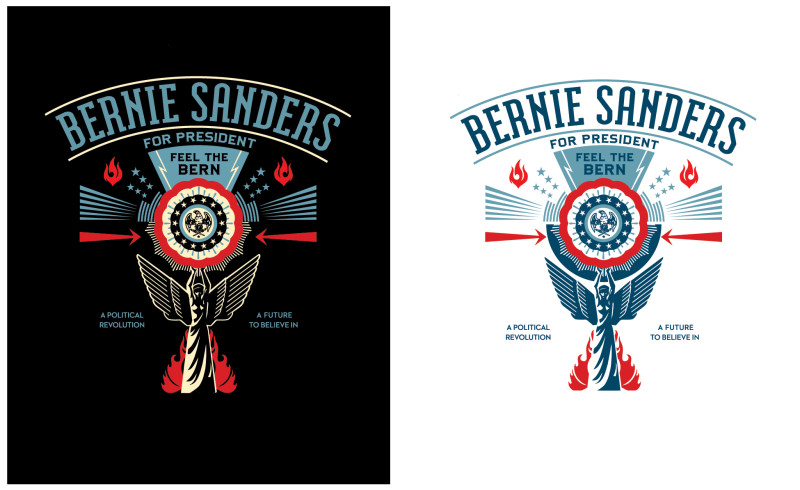 Bernie put them on his official store.
Someone already had fun comparing them to nazi shirts:
http://drrichswier.com/2016/02/19/achtung-bernie-sanders-goes-nazi-chic-with-shepard-fairey/
Sigh. Yeah that is bullshit too. Jesus Christ, it is like the world suddenly a connect-the-dots book for crazies.
I suspect most them were, "You have 30 days to make a song, GO!"
Been loving FFS lately:
The fact that one of the standout tracks on this collaboration is called "Collaborations Don't Work" is just icing on the cake…
actual Band Name and Album Name
Fairey describes the OBEY campaign as an experiment in phenomenology, which is essentially the study of experience and consciousness. He states in his Manifesto that the purpose of the sticker does not lie in the content of its design but rather in the cognitive and affective interaction that he intends the viewer to have with it.