Something tells me he's "bonked" before.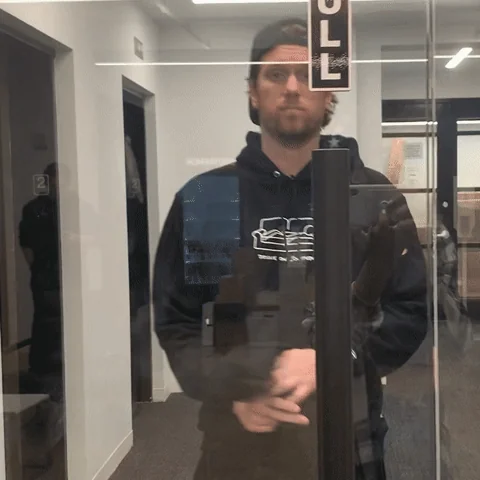 Glass has too long escaped our gaze with its evil transparency!
We must triumph over this clear menace with doors that are made of wood, of iron, of stone!! Heavy doors, uncompromising in their see-throughedness! Doors that are almost immobile, due to their encumberance, more wall than door really, just go out a window.
The same thing happened to me when I was a lil' poster, except instead of a bacon strip it was a fun-looking jungle gym, and instead of an open frame it was a full-length window. That's why I have these badass facial scars.
A few days ago, I was opening a sliding glass door and one of my dachshunds decided to run through the open door. Unfortunately, he didn't notice that the screen door was still closed. Bounce! No damage to either the dog nor screen, though, if it had been a larger dog, the latter might be different.
Yep, my boy is a 170 lb Swissy. (GSMD) If he gets zoomy or notices a particularly provocative squirrel out back he runs straight through a sliding screen door without even noticing, unless he ends up with the frame around his neck, dragging it around the yard like it's his cross to bear.
That is why I put stickers on the door at "snout height" so doggo knows when it is opened or closed.
This topic was automatically closed after 5 days. New replies are no longer allowed.