Super-intense rewilding in progress.
I'm just hoping the wolves don't get hurt in any way.
Mr. Fox: [Mr. Fox on a motorcycle speaking to a wolf off on a distant ridge] Where did you come from?
Mr. Fox: What are you doing here?
Mr. Fox: I don't think he speaks English or Latin
Mr. Fox: Pensez-vous que l'hiver sera rude?
Mr. Fox: [as an aside to Ash, Kris, and Kylie in the motorcycle] I'm asking if he thinks we're in for a hard winter.
Has anyone checked the throne room? I've heard there are wolves in there.
the Greater Vancouver Zoo — located about 55 kilometres east of Vancouver in the Aldergrove community of the Township of Langley — said it asked police to look into what happened
Get going little piggies!
Some (presumed) animal rights activists poisoned the cetaceans at the Stanley Park aquarium a few years ago. I suppose releasing them is slightly better - but - is this even their habitat? Have these wolves in particular ever been in the wild before? Or have they been released to starve or be killed?
sera dure - though yours is funnier.

This is a big worry - if they were raised in captivity they are likely wholly unprepared to be out there, they may not even know how to hunt.
Is this animal activism or tourism terrorism?
I wonder if it's more akin to cutting the Sea-to-Sky Gondola, rather than releasing animals to the wild out of 'sympathetic inclinations'.
Actually, I'm reminded of a rumour that MAY explain why Vancouver has a booming urban coyote population; someone had commented on FB that they knew someone who had released the coyotes after animal testing at UBC decades ago. The coyotes were not native to the area, and were intended to be destroyed.
https://vancouver.ca/parks-recreation-culture/urban-coyotes.aspx
Coyote populations here have since exploded, particularly in urban areas. Experiments with ecosystems, and idiots, it seems.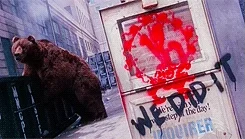 Sure hope they're all OK!
Some animal rights folks have some seriously fucked up ideas.
Some jackass decided to "free" a whole bunch of wild boar in England a few years ago.
Well done animal rights people - you just got a wolf killed. How does that improve their lot???
Though I don't fancy the wolves chances against the Vancouver raven population - unless of course, they team up - in which case we are all doomed.
I hear the wolf is doing OK, has found some modeling work in this gig economy.