I'm gonna need it!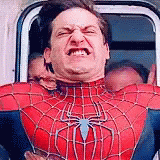 Well, I know the old joke from the 60's about Star Trek toilet paper: It circles Uranus and wipes out klingons. But how does the Spider-Man toilet paper joke go?
Can you use it to TP criminals to a light post for the police to collect?
I wonder if Spidey ever used his webbing when he ran out of TP.
Probably not good for the plumbing.
Just avoid the Wolverine toilet paper, it's rough and coarse and doesn't take shit off anyone.
This topic was automatically closed after 5 days. New replies are no longer allowed.