The enamel on that citrus squeezer will blister and begin to flake off before long, even with proper care. Just get a stainless steel squeezer. And you don't need the lime/lemon divider deal–I had this model, thought it was ingenious at first, but quickly realized it just got in the way most of the time.
I'm no chemist, but won't those metals react with those juices?
I have the BruJoy garlic press, and I love it. Super easy to squeeze and get the most out of the garlic cloves. I really like the swing-out screen, which makes cleaning easier. Plus it comes with a brush for said cleaning. I wish this company made more products!
I have a great garlic press that I never end up using because I just smash them with the side of my knife and chop away. I found cleaning my press to take up more time than not using it.
But it is really nice though.
Use your chef knife to press garlic and a fork to get the juice out of lemons and limes. Just saved you $20 which you can use buy beer.
Oh good! Some expensive unitaskers! I have been searching!
It probably does, though under different names; here is the same garlic press sold as the EZ ($13), the POP Salling ($14.50), the Levo ($20), and one with No name provided ($13)
Most of my life I got by with the knife-smashing method, but a couple of years ago we rented a furnished flat where the furnishings included a nice Zyliss garlic press; we decided we liked it, and now have one of our own. It is hugely convenient to be able to pop a bulb in the press and squeeze directly into the pot or pan. The utility of a garlic press is a function of two things: how easy is it to clean, and how thoroughly does it press the garlic?
Is this where we come in and be all smug about not using a garlic press?
raises hand
Use powdered garlic if you're too lazy to mince it with a knife or slice it with a razor blade in the hoosegow.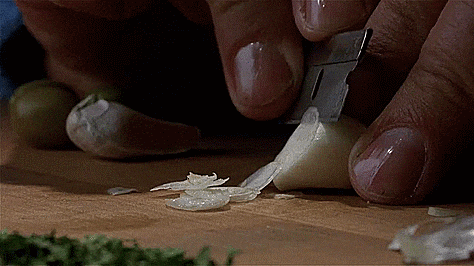 Those there are some seriously shiny fingernails.
Doin time don't mean your mani don't look fine.
Sprinkle a little coarse salt on the garlic and it mashes even more easily.
Came here to ask the same question…: Isn't stainless steel what you use to remove the odour of garlic from your hands? What would it do to the garlicky flavour?
And can't you generate electricity from an aluminum nail in a lemon?
This topic was automatically closed after 5 days. New replies are no longer allowed.