Looks good! I enjoyed the first season.
FWIW - First two episodes of Kenobi were great, IMO!
And I know I am a year late, but finally binged Star Wars Visions and I LOVED it. Especially the first episode.
Agreed on all points. For me, so far, the only disappointing Star Wars content post episode 9 has been Boba Fett, and even that wasn't bad. It just wasn't all that good, either.
Starting to drown in Star Wars spin offs but this looks fun.
Boba Fett was always all buildup, underwhelming payoff. His peak as a BAMF was his introduction as a 12" action figure only available with 5 proofs of purchase prior to Empire Strikes Back. It was downhill from there.
He was knocked into a sarlaac pit by a blind guy. He was so uninspiring that his own show got hijacked as The Mandalorian Season 2.5 at the tail end.
That is a harsh but fair analysis.
While they did make a 12" figure, the send away was the 3.75" figure.
His appeal in the OT was based largely on how mysterious he was. They presented just enough information about Fett in The Empire Strikes Back that fans could assume he was some kind of total badass and the fact that fans knew so little about his background or even his appearance allowed them to mentally fill in the blanks any way they wanted.
The more that Boba's backstory and details got filled in the less cool he seemed. He went from "the fearsome mercenary whose face we never saw" to "one of countless mercenaries whose face appeared thousands of times across dozens of different characters."
We also basically know his entire life story now so that kind of kills the whole "mysterious" bit. It would be like if they made a bunch of prequels, sequels and spinoffs featuring Clint Eastwood's character from the Man With No Name trilogy giving us not just his name but also a detailed rundown of his childhood, personal motivations, phobias, gun training regimen and credit history.
Also, he got revealed as far less competent than many had assumed. We all know that he fell into the Sarlacc rather unceremoniously, but that could have just be bad luck. Now we got to see a number of other significant failings of him and his father over his career, including being singularly terrible at being a crime lord, as well as being a colossal hypocrite. That insane speech he gave to Shand about how if only he was in charge then there wouldn't be so much unnecessary killing, right after he murdered a bunch of parking garage attendants because he wasn't sure if they'd let him have his car back or not…
I hit that point with Star Wars and MCU a few years back. There's just too much, and now that I'm this far behind, I won't ever care to catch up.
Get grabbed by the Sarlacc once, shame on the blind guy who knocked me in.
Get grabbed by the Sarlacc twice because I parked my spaceship three feet over its gaping maw, shame on me.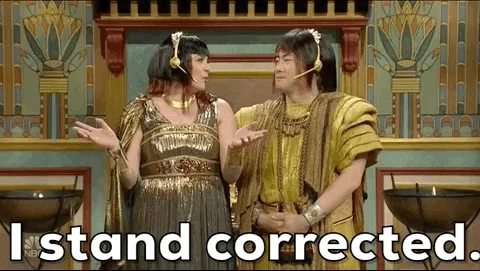 This topic was automatically closed after 5 days. New replies are no longer allowed.