IIRC one of the first things Arnold did after being sworn in as governor was to hold some press event promoting his new infrastructure plan, during which he personally filled in a pothole in front of the California State Capitol building.
Funny thing was that no one seemed to remember seeing a pothole there before they announced the press event.
I hope it didn't rain the next day.
I live in coastal Southern CA and the pothole situation is unreal. We have some of the best weather in the world, FFS, I don't get how it can be so bad other than years and years of neglect.
So where is the money going??
Oh:
I think I remember something like this in London. It ended after some protesting.
Edgar Lansbury was Angela Lansbury's father, and George Lansbury was her grandfather.
Edit:
Minnie Lansbury was not her mother.
Elena Stern, a senior public information director for the Department of Public Works in Los Angeles, told NBC News that it was not a pothole, but a "service trench that relates to active, permitted work being performed at the location by SoCal Gas, who expects the work to be completed by the end of May."
Over here in the UK there would be barriers surrounding the hole and a sign indicating who was doing the work.
It was all the rain this winter. Heavy rain not only causes potholes, it delays their repair (it has to be dry to lay asphalt). The potholes always get really bad during a rainy winter. I remember the winter of 2004-2005, when we had similar weather. I got two flats from hitting potholes.
Don't they usually put a big iron plate over those kind of things?
I'd guess that SoCal Gas is in violation of its permit.
Now Schwarzenegger is on the job, if the pothole recurs, he'll be back to fill it again.
It happens in the U.S. too, of course. If SoCal Gas didn't put up barriers and plates and cones and signs and left things that way for an extended period then the Dept. of Public Works was not doing its job.
Or maybe it's a BS cover story for a pothole, one of many in SoCal.
It's especially bad after rains like the ones over the past few months. The pedestrian pavements aren't so hot, either.
I've lived here for over 20 years. It's been bad for a long time, not just from this winter, I'm afraid.
Our roads are in awful shape, including the street I live on. I can literally fit my entire foot into a crack in the middle.
Sadly, that patch is not going to hold for long. They put it down on a wet street without pre-heating or tarring the hole, and they didn't tamp it down. They should have gotten a T-800 to stomp on it really hard for a few minutes.

Here ya go!
And on this occasion he ensured he was filmed doing the work and his social media team made sure everyone knew all about it too.
If you're going to do a good deed, just do it. Don't expect a pat on the back like some gigantic 8-year old.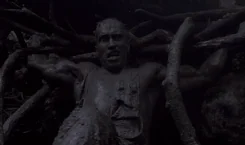 I was guessing that Arnold's mighty Hummer wasn't up to the task of managing a pothole on a residential street.
Ditto here in Australia
Also probably at least 3 council workers standing around, leaning on shovels saying they'll start working "real soon now"
After reviewing the fill in footage that does indeed look like a service trench (an incredibly shallow service trench) as opposed to a pothole. In the State of Massachusetts they would have used a temporary fill for something that shallow and removed the fill when they resumed working on it. As it got deeper steel plates would be used instead.
It's about time.
It's not like he hasn't created enough of the things.