Another wonderful thing! Moar of this, please!!!
Librarian was obviously a stupid job for me because it appears I am allergic to book mites, the kind that live in the good old paper from pre pulp days. I literally, shamefacedly, exempted myself from doing stocktakes/collection moves of old books a long, long time ago.
The upside is that I get to focus on people, rather than things, and their intersection with ideas and information is my actual passion. Rather than the objects.
There is a distinctive smell that comes from oldish etchings and engravings that I am partial to.
These are some of my favorite fragrance notes when I can find them, especially the slightly sour ink scent, along with the "scotch tape" scent which I think exists a little bit in Dali Laguna Maravilla.
Another favorite is the smell of brand new pool toys. Scent is so strange because it's often just arbitrarily personal. I tried a sample from "Imaginary Authors" after some successful online marketing of a scent they called "sundrunk" and could not believe how instantly it transported me back to childhood, watching my grandmother feed wet clothes into the electric mangle and then the smell of the sun on the laundry as it came in from hanging…
Scent is such a strangely direct route to emotions, isn't it? I haven't found the perfect just library scent yet though, most seem to be more on the vanilla/wood/amber side which is also wonderful, but way more "head shop" than "book shop."
An etching workshop can smell wonderful; ink, resin, methylated spirits, and an undertone of acid.
I love the smell of fresh comics, fresh vinyl stickers and warm leatherette (one of these three is untrue; but I do love that song).
Weirdly, I find second hand-bookshops depressing; especially the ones piled high and triple-deep. The thought that there are so many books in one place, and I've no way to read them all, brings me face-to-face with my mortality. Hay-on-Wye is like being in the city of the dead to me; like I am surrounded by people whispering "memento mori".



I can understand that… but maybe also, we can see a second hand book shop as hopeful in the sense that we have a way to preserve and share knowledge, from the ancient world to today. It might function as a reminder of our own mortality, but also as a chance to make a bid for immortality as well as a deep connection with the past, in a way that transcends the limitations of our own forms and time and space?
New books use modern chemicals like hydrogen peroxide and alkyl ketene dimers, so they give off different VOCs.
in the unlikely event that anyone else wondered; "VOC" stands for "volatile organic compounds" (and neither, in this case, Vote of Confidence nor Volvo Owners Club)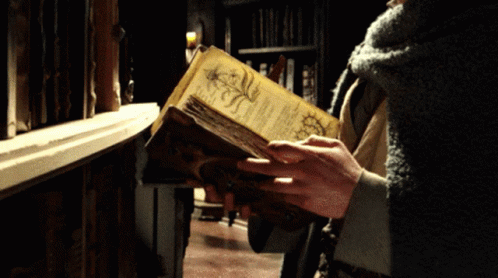 Even older books used other fibers (or even skins), rather than wood fibers, so ought smell differently. Anyone here have any experience with that to relay?
I have long wanted to try some of the perfumes and colognes that are inspired by old books.
You: "What you're looking for are in the stacks. Go right in."

Avoid the ones with arsenic.
… are you a character in a Terry Pratchett novel

Yeah, I get excited every time I see an "old books" or "library" scent, but they never really hit the spot. There's always something harsh in them that doesn't quite fit with authentic old book scent. I think it would work if they added a whole lot of white musk base notes to vanilla top notes together with very subtle leather,but that might be prohibitively expensive for such a niche scent. I don't actually know what white musk costs but all the ranges that rely on it (looking at you, Creed) seem to be very expensive.
It's the same with rain scents. I love the idea, but have not yet come across an implementation that works. They all seem to rely on harsh artificial ozones.
I have handled medieval manuscripts and early modern paper. I can't really recall a specific smell. They tend to acquire the smell of their surroundings more. Of course, they are much more stable than 19th and early twentieth century books, so they don't decay and release these volatile compounds.
Although just a movie, it was still terrible watching all those books go up in flames.