IANAL, but I do see that in some cases a judge can order 180 days imprisonment for Contempt of Court. I know it's a longshot, but you'd think he'd qualify in the top percentile for contemptibility.
I have no love for the Tiny Fingered Vulgarian and IANAL… but it seems to me that his "Truth" Social bloviations don't run afoul of Merchan's order in the hush money case. Seems his BS was regarding his rape case.
Which of course he's claiming he's being "silenced" by, yet he declined to show up or testify.
Anyone who went past 1 or 2 hours is not following Il Douche very well.
Headline fail. The quoted article doesn't say that Trump violated the gag order. He just vented about it. The gag order forbids Trump from disclosing information obtained through discovery. He hasn't done that.
House arrest in Manhattan and an ankle monitor might be the first step.
Immediately after being told by New York State Supreme Court Justice Juan Merchan NOT to rant on Social Media, Trump took to his not-very-successful social network to decry the order.
Maybe that will be Trump's defence against a violation, "I did not share it with social media; I did not! Oh, hi, New York State Supreme Court Justice Juan Merchan. I only shared it with my half-dozen toadies on Truth Social!"
"despite being a current political candidate…" … An hour earlier, he wrote that this was a form of election interference.
I figure it's the real reason he's running again (and perhaps one reason why he did before). I don't believe it's valid, but I believe he thinks so.
Just like the gag/let justice work order that was done in the Duke Lacrosse case when that case started falling apart. Had Nifong not been betrayed the credibly accused Duke Lacrosse rapists would have been held in contempt for going on 60 Minutes.
I know that Judges don't usually post responses onto social media, but it would be funny for the judge (or an impostor) to post the following:
I take exception to your posting that you were claiming that you were "…not allowed to speak or defend myself…" You had ample opportunity in our court calendar to do so up until 5:00pm last Sunday.
Unless you can convince me in my chambers as to why I should not hold you in contempt for this latest posting, I will issue a bench warrant for your arrest and we will further discuss these sanctions upon our next meeting.
There was a lot of generational wealth behind those players. The kind that can hire (or own) PR firms and law firms at the first whiff of danger to scions of the house.
Well he can stop waiting:
Jury finds Trump sexually abused Carroll, awards $2m

A federal jury in New York City has found that Donald Trump sexually abused advise columnist E Jean Carroll and awarded more than $2m in damages, Reuters reports. However, the jurors did not agree with Carroll's allegation that the former president raped her, according to Reuters.
And another $3m because of his inability to shut up…
A federal jury in New York City found that Donald Trump defamed advice columnist E Jean Carroll with an October 2022 social media post in which he called her allegations a "con job", Reuters reports.

The jury awarded Carroll a total of $3 mn in damages, $2.7 mn of which are compensatory and $280,000 of which are punitive. They also awarded $20,000 in punitive damages against Trump over a claim of battery made by Carroll.
The Mouth, determined to dominate the spotlight, continues to have its way with its owner's future.
Please pass the popcorn.
Is than AI version of Tommy Wisseau playing Trump?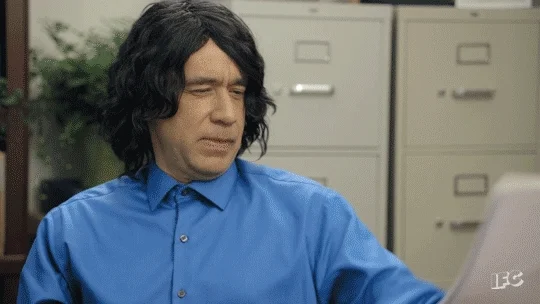 "Ah du nod have tiny hands! Ah du not!"
Not gonna lie… I WOULD watch that film… It's the interpretation that Trump deserves…
Actually, it's probably still TOO good for Trump… he deserves less than nothing…
Dude, WTF is going on with that picture?
It's hypnotically horrifying.
Is this some interwebs joke I have missed for years?
I think I looked at it for a bit too long, TBH.