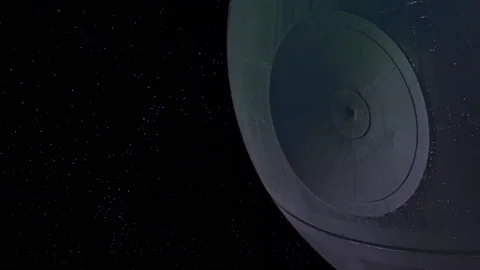 I prefer the de-specialized version…before Lucas got his greasy paws on it:
I´ve read that the original cut was forever lost.
I have an old VHS version of the original trilogy that my brother taped from Laser Disc 30 odd years ago. I keep my VHS player around solely for this reason.
I can't stand the special editions to the point that I'm unable to watch any of the movies anymore when they come up on cable.
I highly recommend you search around for Harmys Despescialized edition or the 4k77 35mm restoration project. It's time to upgrade that ancient copy.
Hey Good Friends,
I noticed once again that a person[s] is flagging all my posts.
Now as a point of reference, I took a very long hiatus from BB for this precise type of juvenile behavior. I well sure it was nooooostromo, or facsimile thereof. I truly enjoy BB, if it were with my financial grasp I would donate, and do it generously, but sadly I am just an old man retired, and funds are tight.
Thank you in advance, please look over my posts, if they offend, I will amend, but I believe they are very pedestrian in nature, never meant maliciously, and in the end always enjoy speaking to the many BB folks.
Be well.
Papasan
I hear ya on that bit of nostalgia, but those 480 interlace lines ~twitch~ hurts my brain now.
This completely offended me.
FriEnD???
Anyway, space lasers are the only reason we aren't on a FULL COAL economy! It would totally work!
I have secret, insider, totes legit info that we should abandon eco-terrorist fuels and burn the coals!
How would you possibly "beam the sun's energy back to Earth?"
I guess they must use some kind of "solar radiation" or something.
/s
I had a friend whose family was in the popcorn business and supplied the popcorn for that final scene!
She is really riding the batshit all the way to the bank isn't she?
I have to wonder how much of this she actually believes (i.e. the "Space Lazors started teh firez!!!") vs just pandering to the nutso conspiracy crowd that is her power base (and is an uncomfortably large/vocal proportion of certain populations).
I mean, we don't even have space solar energy yet (other than devices like satellites and mars robots), and she's blaming catastrophes on them (rather than looking towards anthropogenic climate change, and un-maintained infrastructure).
Next she's going to be blaming dyson spheres and quantum void energy…
"green energy space lasers" are the new "alligators in the sewer."
I have a set of the THX remastered laserdisc box set that should be the best copy of the original films. I also have DVDs that had a port of these discs as "bonus" content.
me too. i always hated the saturn-ring style explosion.
i've heard that too, but Harmy is our savior in this regard.
Gosh, it's really too bad that no one was able to uncover this predatory and unhinged behavior even though it was publicly-available information since before she ran for flippin' Congress! I guess the MSM must have cancelled her before the word got out.
Oh, I concur. Most things you say are pedestrian.

But seriously, leave Papasan alone! His presence was so greatly missed, they made a new emoji! 🥸
It was available on laserdisc. That's where a lot of the despecialized edition's footage comes from.
Funnily enough there were multiple systems developed pre-vhs to put movies on vinyl discs.
Techmoan on youtube has some good videos about them.