I'm scratching my head that Reagan is #9. He started this race to the bottom. No Reagan, no 45. I'd rank him just above 45 at the bottom of the heap.
I cannot remember right now who said this:
YER SO DUMB THAT IN THE DUMB OLYMPICS YOU'D COME IN SECOND. WHY ONLY SECOND? COS YER DUMB!
fits like a glove.
Also, how's that Presidential Library coming along?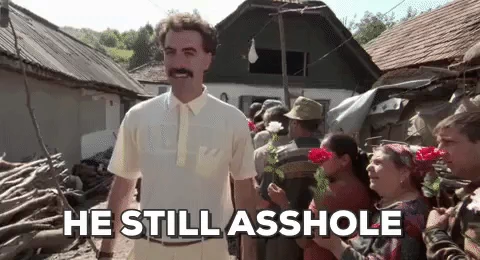 Was he worse than Bush 2 who started multiple wars that killed an estimated million people?
He might not have been worse than Reagan who started whole the tax cut / service cut spiral that got us here.
He was crass and vulgar, but ultimately did a poor job of advancing ruinous GOP policies. Honestly I hope they run more openly racist heels instead of the regular ghoul who can smile pleasantly enough to provide some cover for the centrists.
There's always "the middle of August."
While I absolutely agree with you about Reagan (I've called him Dr. Frankenstein to Trumps' Frankenstein's Monster on a BB thread), when you break it down like C-Span did, there were areas where he would have to be ranked high, like Public Persuasion, Economic Management (while trickle-down is a horrible policy, the stock market and productivity climbed during his reign), and Vision/Setting an Agenda (whether you agree with his vision or not, a lot of folks bought into it).
I feel there should have been another category of ranking … perhaps called "Legacy." It would rank how these gentlemen's policies or persuasion played out for the country over time. A Reagan might get low marks in such a category that would bring him down overall.
I guess Donald can be comforted by the fact that he's the worst modern President. Take that, Dubya!!
I love the picture, but "Does it come with a cheat sheet?"
(I recognize Ted Cruz, and assume Majorie Taylor Greene is one of them, but sadly I can't match the rest of the faces to names.)
Reagan is ranked higher than LBJ? LBJ signed multiple landmark civil rights bills into law and then has the courage to step aside when he saw that he was in over his head with Vietnam. What the fuck did Reagan do other than facilitate our speedy decline into fascism and start a bunch of wars in South and Central America? Yeah, this list is bullshit.
LBJ came second in Pursued Equal Justice For All, behind Lincoln and ahead of Obama in third place.
What I am confused by is how Trump got a score of 27.6. Did he get bonus points for not enabling genocide or slavery like the four presidents below him? We all know that he would have done those if he was allowed to.
I'm surprised Grant scores as well as he did considering how scandal-plagued his administration was.
I'm pretty sure what we would consider the most important aspect of a president's history (impact and legacy) has barely any consideration at all here. Especially with the direct line from Reagan as president to W Bush as president to Trump as president. They also put Coolidge in the middle of the pack, and Coolidge's opinion on regulation has a direct correlation to how deep and long the Great Depression was.
"and Economic Management — again, unsurprising given the historically large tax cuts passed earlier in his term"
Not sure how that was a positive, in that his only tax cuts were repeatedly for himself and his friends. I certainly didn't see any of it!
Southern ( or perhaps "neo confederate") historians may have exaggerated his scandals. Note that Grant was 33 in 2000, but improved to 23 in 2009. Wilson was once regarded as among the best, but his reputation has slipped in recent years, for good reason. Jackson has also tumbled-- also for sensible reasons.
He was 11th bottom in that category, so it's not like C-SPAN thought he was any good at it.