Me: "Excuse me, may I borrow five dollars?"
Them: "Six dollars?!"
"Ten dollars is a lot of money!"
"What do you need fifteen dollars for anyway?"
"It's rude to ask a person if you can just borrow twenty dollars from them!"
But just the other day people were so Malthusianists…
Hmm, when worrying about the perpetuation of the human species, gender identity comes in…nope, doesn't even make the list.
If this were really a concern for these guys, they'd be complaining about plastics, other pollution, unsustainable food habits (@BakaNeko scooped me on that one!), etc.
but as always, it's about controlling others.
They will always scream and yell!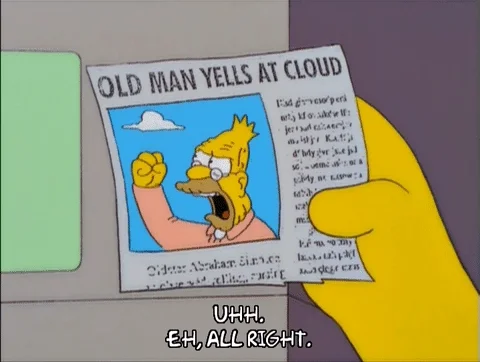 They want to make room for the right people.
Did I get that wrong? It's something that rhymes with right, anyway.
[packs bags for Gay Island]
C'mon vaccine!
Oh noes, the non-cis, non-hetero, non-binary people are going to crash our population! If only there were people willing to migrate to the US to shore up our numbers…
Mister associate professor doesn't understand 'percentages' (in black vs Caucasian people killed by police brutality).
An F minus for His Professorshipleness.
(Just for the sake of Argument of Authority, yours truly was an assistant professor for over ten years.)
I'll ask my friend who's the son of a gay man and a lesbian woman whether it's possible for teh gayz to have children. He might disagree with the esteemed entertainer.
Considering there are a few billion humans on the planet, there is a long long way to go before we should worry about the existence of transgender people causing the end of the species.
I dunno, but for some reason I think maybe we should be more worried about virulent diseases doing that.
Not even that. I've yet to hear of anything that will cause everyone in a population to die out, other than utter lack of food or water, or a huge natural calamity.
Anti-LGBTQ Bigots: Non-heteronormative relationships are a threat to the survival of our species! We need more people making babies!
LGBTQ People: Actually a lot of us are interested in making babies…
Anti-LGBTQ Bigots: THAT WOULD BE AN ABOMINATION!
We did not need Tucker to remove all doubt that he is a fantastic qnut asshole, the entire world knows that already.
Last I heard, we trans folks make up 0.6% of the total population, as near as anyone can count. Even if nobody that fit under the trans umbrella had children, it would affect nothing.
However, should we tell him that transgender folks do want and have kids? There are more than enough transgender men that have gotten pregnant and had kids, and transgender women that have conceived with their partners. I am certain this applies to nonbinary folks, too. Even if we were the last demographic left on earth, we'd have kids.
Tucker Carlson is such a joke. Too bad he commands so much attention.
Right? I can't wait to hear Tucker's heartfelt plea to end the use of neonicotinoid-based pesticides so we stop killing off our pollinators.
…I'm thinking it will be a loooong wait.
Don't tell Tuck – I helped to make some LGBTQIA+ babies. Part of the problem, that's me.

He also forgets that virtually every gay person was born of a straight couple*
*I am sure there are plenty of exceptions involving donor gametes, but they are expensive and not the norm.