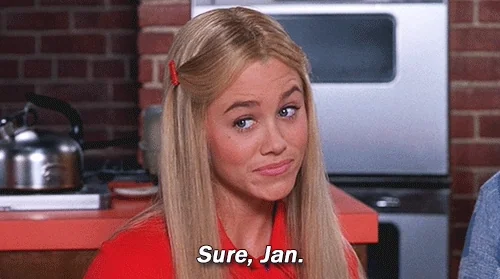 We never said he was out of his mind. Pleasantly pissed is all.
Permanently Pissed Pandemic Profiteer is the most Tory thing ever.
The BBC haven't even noticed it is British LGBT History month. They did have at least three transphobic hate stories yesterday though.
It's going to end in organized violence both there and in the US against trans people soon - probably this year. With our access to firearms and having militias - I shudder to think.
I wonder why they're out of money like this. It's as if their donors suddenly had their assets frozen or something.
Lis Truss: I was never given 'realistic chance' to drive bus full of orphans and kittens into pool of boiling lava.
The ex-PMs comments are the first detailed remarks she has made since she was wrestled away from the steering wheel of the vehicle whose brakes have been deliberately cut, and only seems to be able to steer towards the right.
We now have video of Liz Truss from a timeline where she stayed as PM

(I honestly expect Rishi Sunak to end up like this too)
Northern Ireland continues to be a can-kicking mess:
Alice Litman was a high school junior when she told her family she wanted to live as a woman. Barely for years later at age 20 she died by suicide. According to her parents Peter and Caroline Litman, she died partly because of the inaccessibility of gender-affirming healthcare in the U.K.
The BBC reported that an inquest is to be held into the death of Litman, who died by suicide while on a National Health Service waiting list for almost three years for gender-affirming healthcare. She had been referred to the NHS Gender Identity Development Service in August 2019, but was still waiting for an initial assessment when she died by suicide at the age of 20.
This was completely unexpected.
Whoever is elected next will have three years before the next Scottish parliament elections, and possibly a Westminster election the year before that.
I think that she is being eased out by elements in the party.
That's what is worrying me.
Position on transgender rights

Cherry has opposed proposed reforms of the Gender Recognition Act in Scotland which would allow transgender people to obtain a Gender Recognition Certificate on the basis of a statutory declaration, replacing the current system that requires interview by a bureaucratic panel and medical reports.[64][65][66] She signed the SNP Women's Pledge, which originated amongst members of the SNP but is not affiliated with it and which opposes the reforms.[64][67]

Cherry has denied accusations of transphobia, stating that she approaches the issue "as a feminist" and that there was a "big dose of misogyny" in debates over Gender Recognition Act reform. She said that the statement "women don't have penises" is an "undeniable biological fact".[68] She has stated that she has faced abuse over her position and that sections of the SNP with opposing views have "engaged in performative histrionics redolent of the Salem witch trials".[69]

In January 2021, she supported an amendment to the Hate Crime and Public Order (Scotland) Act 2021 that would have exempted "criticism of matters relating to transgender identity" from violating provisions relating to protected characteristics in the bill.[70] Later that month, she was criticised by SNP colleague Kirsty Blackman, after attacking and threatening to sue the party's LGBT wing, who had been critical of her defence of Sarah Phillimore, who had been banned from Twitter for allegedly making transphobic and antisemitic statements.[71][72] In June, she signalled her support for For Women Scotland campaigner Marion Millar, who was charged under the Malicious Communications Act 1988, with a hate-crime aggravator, for allegedly transphobic and homophobic social media posts.[73] Later that month, Cherry announced that she was returning to the bar to defend Millar in court.[74] The case was subsequently dropped by prosecutors.[75]

Writing in The National in June 2021, Cherry stated that some veteran members of the LGBT+ community no longer felt welcome at Pride events due to their views on transgender rights, claimed that LGBT+ rights charity Stonewall's workplace inclusion schemes misrepresent the law, and stated her belief that "many same-sex attracted women and those who hold gender-critical beliefs have found themselves in a relationship of coercive control with employers, service providers and membership organisations".[76] In response a letter to the editor was published in the National, from the Director of LGBT charity Equality Network, Tim Hopkins, disputing Cherry's position.[77]

In November 2021, Cherry was accused of "justifying conversion therapy" for transgender people after she tweeted that a ban on conversion therapy "must not make it a criminal offence for therapists to try to help patients with gender dysphoria to feel comfortable in their birth sex".[78] In the days following her comments the SNP's official LGBTQ+ wing, Out for Independence, and SNP Students both called for party leadership to remove the whip from Cherry, and for an independent investigation into transphobia in the SNP.[79] When her position was criticised by the Equality Network,[80] one of Scotland's national LGBTI charities, Cherry called for a Scottish Government investigation into the charity and for Shona Robison, the Cabinet Secretary for Social Justice, to make it clear to the charity that its behaviour was inappropriate for a government-funded organisation.[81][82]

In August 2022, in a public letter to Jason Leitch, the national clinical director for the Scottish government, Cherry argued that trans young people "must be treated like any other children with psychological problems" and called for Scotland's only gender identity clinic to be closed.[83][84] In October 2022, The Daily Telegraph reported that, with fellow "gender critical" parliamentarians Rosie Duffield and Anne Jenkin, Baroness Jenkin of Kennington, she was setting up a cross-party "biology policy unit", "to help ensure policies across the public sector that are based on gender identity theory are documented and scrutinised".[85]
Hopefully the Alba Party defectors will not be allowed back into the party to turn the SNP into another shitty party full of TERs. The SNP only became successful after they stopped being Tartan Tories, they don't want to go back to that.
It won't be her-
While any member of the party could be elected leader, I expect they'll be an MSP, because there needs to be a new First Minister.
The Alba split has removed a large chunk of the regressive supporters from the party, which means that they probably won't have the votes to take over now.
It's difficult to see who will run for leader, but the two most prominent possible successors are Angus Robertson or Humza Yousaf
Edit-
Having thought about the timing of this resignation, Nicola might be going now to make sure that the most prominent of the anti-GRA MSPs is out of the race- Finance Secretary Kate Forbes. She has a high profile but would be an utter disaster as leader, because she's a religious nutcase. She's currently off on maternity leave, which makes me think that the timing may be designed to keep her out of the race.