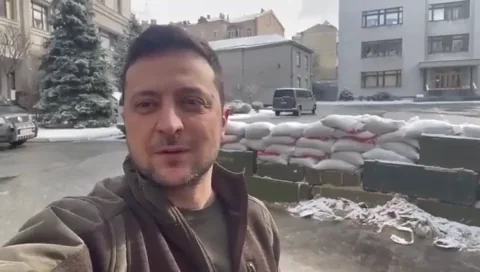 As incongruous as it first seems, the courage to make a complete ass of yourself in a ridiculous outfit in front of, potentially, million of people is quite closely related to the courage to face a ruthless, murderous military assault.
This is really indicative of how the war has weirdly become a piece of the culture war in the US. The right sees video like that and thinks all sorts of backwards and toxic-masculinity-laden things about him, then maps that on to events at home. They see the Russia/Ukraine war as a weird proxy for a left/right culture war, domestically.
It's fascinating right? The events over last ten years will be disected by professionals for many decades, and I don't think we are even done with the second act yet.
I hope this man survives the conflict.
Somehow in all the Ukraine news of the last three weeks I missed it that Zelenskyy has already escaped at least three assassination attempts.
I'm sure Putin saw videos like this and thought the invasion of Ukraine would be a day in the park: a country of "little Russians" led by a guy who plays piano with his хуй and dances around in sexy outfits.
Is there a video of that piano move?
Given that the lyrics basically translate into "let's have a party!" that seems perfect.
With the seething, toxic masculinity of Putin, I'm fairly certain this video started the war…
I'm gonna say that he didn't make a complete ass of himself.
Reminds me of a quote from this movie:
Dennis Hopper (a 1960s fugitive) is saying to Kiefer Sutherland (an FBI agent);
"Once we get through the 80s, the 90s are going to make the 60s look like the 50s."
And he was so right!
Well, at least there is someone to feature in Hottest Premier 2022 Calendar.
Maybe he should have specified which park.
Here's the complete vid
Edit: Thumbnail is new. Appears to be on their most popular ones. No idea if "it" refers to watching their videos or the war itself. But agreed that people in the US relating to the conflict as if it's a quirky sitcom like the office is pretty weird.
Watch or don't but it is the full video.
Promise
It takes both courage and a sense of purpose.
At last a politician with qualifications and world experience. I hope he can remain nimble and prevail. Ukraine knows what it's got and will need him going forward.
I really don't think the US right in general knew shit about him before they backed Putin. They had Trump backing him already, he wouldn't do shady shit to take out Biden before the election. That's it. They may be retconning their thoughts now but I seriously doubt they were expressing a coherent worldview rather than just Trump good others bad.
Even in Europe, which his country is part of, he was only known as a neoliberal who used to be on dancing with stars.
I didn't say they did. I was saying that all the stuff about Zelensky that has come out since the start of the war has been woven into the culture war in the US,serving to reinforce the right's support of Putin.