He seems to have a jaundiced view of things.
How long before the picture of him with the jacket up around his face as he goes home after making bail?
The only men in dresses children should be wary of, are clergy.
Check out the small print at the bottom of the screen - 'Santanism' !!!
I for one agree as I find worship of Santa Clause an abomination!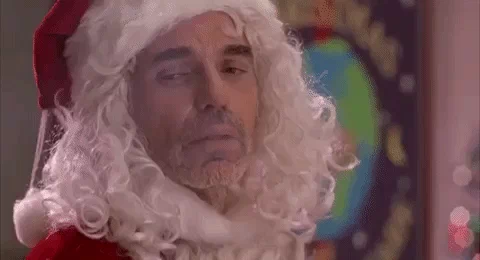 I could get only as far as sinners in the Arts. If you don't think Jeffrey Koons does art, just say so.
Tweety Bird did not age well.
Guy left so many pregnant pauses just waiting to be filled with jokes, Rocky Horror Picture Show-style.
"Sin is real." Yell from the back, "Define 'sin'!"
"S-I-N is real." "Can you use it in a sentence, please?"
"Sin can exist in any institution." "Quite often the clergy!"
"There are practices out there that seek to groom and corrupt the minds of young children." "That's called 'going to church'!"
"…and in displays of abomination…" "Like that jacket!"
Woulda been fun.
Sounds like a very bad proposal. But I disagree about the jacket. I think it's pretty natty.
news story about that guy sending photos of his gentlemanly area to children in 3…2…1…
According to my oft-proven theory that every GOP accusation is a confession, This guy is a pedophile.
Come on. Loud and colorful suits are the uniform dress code for televangelists.

Sin ? Groomers ? You mean like Missouri State Sen Mike Moon saying it is O.K. for 12 year olds to marry ? Sick man. Oh, another Republican, huh ? Whatever happened to the "Stop the Steal" leader ? Did he get the pics he was asking for from the youngsters ? Oh, another Republican ?
I am going to guess he has never heard of Denny Hastert or Mark Foley or Milo yanopolis or Ali Alexander or Matt shlapp or randy McNally or any of the other scores of conservative perverts and televangelists out there or he might be more concerned about the GOP than the arts.
Vanity is a sin, I'm guessing outlawing fancy clothes isn't on the agenda. Greed is a sin, but he hates taxes, especially those going to the poor. He was also cheering on the attack on the Capitol while it was happening, but violence is a sin, bearing false witness is a sin, murder is a sin, worshipping gods like the adulterous TFG is a sin, coveting the democratic victory is a sin…
I'd like to think that the BoingBoing readership has moved beyond jacket-shaming. We should love and honor jacket-diversity in all its forms. All jackets are beautiful. (*)
(*) Well, maybe not that one jacket you have, you know, the one that's somewhere between fuchsia and turquoise, with the fucked-up pockets and those ugly-ass buttons. That one's not. But the others are mostly OK.
Why would the religious right want to project accusations of grooming and paedophilia onto others?