It would be awesome. If I were American I'd vote for her, donate, campaign etc.
It would not work. For someone as intelligent and progressive as AOC to become president we will have to go a lot further down the road to catastrophe while also fully discrediting the fascist solution to catastrophe.
She's doing good work where she is. She would do even better work as a Senator. And maybe in 2028 or 2032, if you still have a democracy, she would be an utterly awesome President.
This is my view too. I'd fully support her if she ran, but I don't think the country is ready. We're still trying to fight off a fascist takeover, electing a socialist seems like a far-off fantasy.
Given that Boing boing pointed out that Kamala Harris seems to have lost her appetite for the fight (and if she has, then she's not presidential material in that case), who do you think would be a good, and viable candidate?
Looking at history, I think it would be too optimistic not to consider point 3. The US has a long tradition of political assassinations: presidents, candidates, moral leaders. PS. I am American, although not North American

She has my vote if she ever decides to run for President. She's a fighter, not a quitter.
Huh, I had just rewatched this, just to show me that not all is bad in the world/the US
Has there ever been a right-wing stunt that has backfired more badly than the one introducing us to this?
(I hope this doesn't come across as reducing her to dance videos but it is just so nice to see someone who, in addition to being a brilliant and outspoken politician, clearly has a sense of fun.)
I like her in the House. And for all the noise about party infighting. The committee assignments and other duties she's gotten are a potential pathway to House leadership. The DNC has a problem in the House. There's a lack of a pipeline to leadership beyond the people currently camped in those roles. We have "junior" positions, meant as a pathway with fucking 68 year olds parked in them. There's a not distant at all future where these people start to retire, die, or otherwise drop out.
And if there's nobody worth a damn around to step up the party is fucked.
People forget that was a major part of Pelosi's pitch for the 2018 election and another go round as Speaker. In all that jockeying, progressives got the committee seats and prominent roles. Not Blue Dogs.
I don't think she'd be an effective president, but I do think she'd be a damn effective legislator. I either want her in house leadership in the next few terms, or in the senate potentially vying for senate leadership.
If she's elected president, it'd basically sideline all the progressive parts of her.
Still inclined toward Amy Klobuchar m'self. Always thought a prerequisite for such an office included a practiced and general sense of humor, (yet another feature utterly lacking in the orange excrescence). Elizabeth Warren would be fine-n-dandy, but has been labeled [B-movie shriek] a… socialist! -sigh-
Stacy Abrams, Katie Porter.

ETA: Both are more intelligent than most politicians, and unflappable.
ooo… yes, Katie Porter! (didn't think of her in terms of running in that direction)
I would like to see it. She's extremely capable.
Wait, the stapler-throwing was a joke? Oh, that makes it OK. /s
But seriously, let's not make another temper tantrum thrower president. Plenty of better options who treat their staff with respect and basic human dignity.
With all the Lauren Boebert and MTG posts we've been seeing, AOC posts are delightful Unicorn Chasers. She's the hero we need.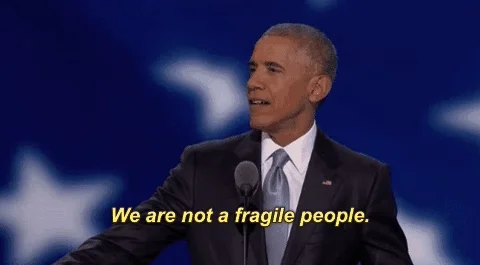 As a non-American, I really like Elizabeth Warren.
She's been my first choice going back to 2016. Ocasio-Cortez and Porter and Abrams are also excellent choices. As @cepheus42 put it above, they're all fighters and not quitters.
I think they're all terrific, but do any of them have a hope in hell of winning?
I like Elizabeth Warren a lot too, but I'm kinda tired of 70+ year old white people getting all the future in the party. I get that that's not her fault, but it's really time to let younger, non-white people have the future.