Walters is the kind of snob who reserves respectful questions for guests like Kissinger and Assad. She's no match for Dolly.
International Treasure.


Dolly Parton is awesome.
Neil Diamond said in an interview years ago that of course the sequined shirts were ridiculous but he wore them early on so the fans in the larger venues could see him.
Like Dolly he's a true entertainer, they are both there for the fans.
I have to admit, I've never really known Dolly. There's a lot more there there, for sure.
I'll add Barry Manilow to the list of flamboyantly attired class acts.
She's turned down the Medal of Freedom twice.
Dolly Parton is an awesome human being. The other person mentioned?
Not so much.
"I would never stoop so low as to be fashionable. That's the easiest thing in the world to do."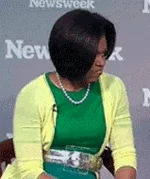 Dolly is the real-deal class act in this interview.
I'll paraphrase what Dolly says in this video. "Fuck off, Barbara!"
"Journalist" Barbara Walters.

You could fill an hours-long compilation of her getting hurled sexist, demeaning and ignorant questions from reporters of every stripe, male and female. And they're all the same topics for well over 50 years; her boobs, her husband, her upbringing and, occasionally "did you fuck Porter Wagoner/Kenny Rodgers?" I'm so happy that she's recently found an audience that's finally willing to see her as she is; an extraordinarily talented, generous, whip-smart, classy songwriter and storyteller of the first order. She's been flicking fleas like Walters off her back for decades and has emerged as one of the most respected artists in US history.
Oh, and she also gives millions of dollars worth of books to kids who don't have access otherwise:
"Darling, did you look like this when you were a kid?"
"No, I was much shorter."
(that would have been my immediate snarky answer anyway.)