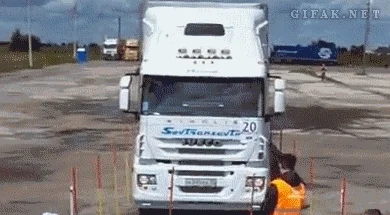 Obviously this semi was being driven by an Amish horse. It's okay, he knows his way home. /s
Bollards gonna bollard. What a fun word that is.
Is this a case of "drive it like you stole it"? I assume someone was nicking the load and panicked when they got tangled up with the bollards.
Also… I think he, maybe, needed a few more horsepower to complete the course in time.
Technically, the trailer lost its dolly. The dolly has 1 or 2 axles with 2 or 4 wheels (connected to the truck's air braking system) which can be moved forward or backward prior to loading and locked into place to accommodate different weights and cargo. The truck or rather, the tractor looks unscathed.
I learned this all in first grade because my friend Jeff's dad was a truck driver and Jeff never would STFU about trucks and motorcycles and cars.
One wonders about the mental resistance the driver of this truck had to getting out and seeing why his machine wasn't working.
Ahh, Florida.
Well, if you're gonna post stuff like that about how easy it is to make an articulated lorry go backwards, I'm posting this and wondering if this guy in Florida wouldn't do it because he wasn't driving a Volvo.
(PS There's an easy-to-find 'making of' video and no CGI was used.)
That will buff out.
Also, sort-of-reboing from the "Motors" thread.
Could've been worse…
Man, guess the guy was like, "Fuck it, I don't want to work here any more anyway."
Well there's your problem.
I apparently went to the ugly bug ball…
but got shock horror… crash bang wallop…
I was going to mention that it was maybe disheartening that the person filming didn't put down their phone and run over to the truck to offer to flag for the driver. But the longer I watched, the more sure I was that the person filming made the right choice by staying far away.
Honestly, that would have done more harm than good. I've spent a lot of my life operating heavy machinery and two things you do not want around are bystanders whom you have to constantly monitor so you don't hurt them, and people trying to give hand signals who don't have experience doing that.
In any case, visibility is not the issue with a turn like this. The operator can see the obstacle in his mirrors. This looks like inexperience.
Florida, it's a hell of a drug?