that guy should not have a cat
Agreed. Rough handling, and then the kick?
Karma for the kick. And it seems likely he will never know quite how it happened.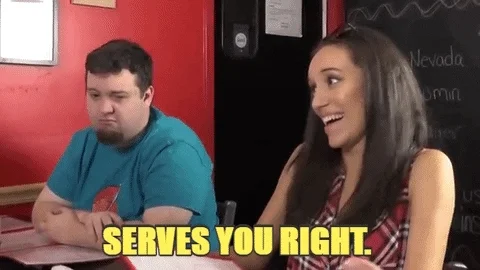 that staircase should probably have a handrail anyway
I had the same reaction. Shooing the cat out of the chair – that's fine. People do that. Cats cope. But the kick? That was cruel and gratuitous, and the guy so deserved the potted plant on the head on the head.
I feel sorry for (a) the cat, and to a lesser degree (b) the potted plant.
Maybe the guitar.
But the guy? Totally deserved it.
"kick a cat, your leg will crack"
I suspect that is not his cat.
I think he found out while seeing this video. Presumably he was recording himself, so he at least was a good enough loser to see the humor in the event and upload it.
I just wonder if the cat was smart enough to deliberately turn over the right pot or if it just got lucky.
D'oh!

I will never know if I credit my cat with far too much intelligence or nowhere near enough.
I do know though that a lot of her behaviour is about keeping me in my place (at least one rung below her).
And yes, this guy was gratuitously rough and then lashed out as well he and the cat are not friends and karma is a b.
Post was removed? ETA: Oh, because it's fake.
If you want a story about an attempted animal homicide, read Biruté Galdikas' book on orangutans. She described how at one point one tried to push a dead tree on top of her while she was stuck between two logs below… Would have been just an unfortunate accident if it had succeeded.
Cats aren't "pets" they're just shitty roommates.
The video in the post has been removed, it sounds like the guy relocated the cat in a bad way and the cat got angry.
My cats just wait until I get up to get a drink or use the bathroom and then when I return they're all like "I was here first". I relocate them ever so gently to one of their 50 cat beds, a couple with heaters.
My wife will relocate herself instead of disrupting the cats comfort.
Our old sick, deaf, and going blind cat joined me in bed last night and fell asleep in the most uncomfortable way for me. He got to stay, I relocated, good thing it's a king sized mattress.