Whatever the boogeyman of the day is for the fascist right, it's always just shorthand for "everyone that's not us."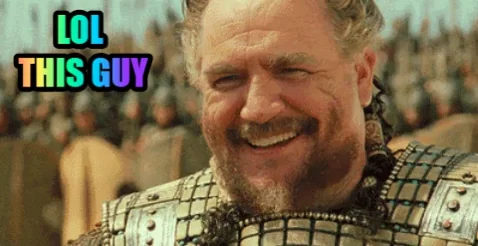 Real ironic to crib the rhetorical structure for your fascist stump rant from a famous speech about fighting Nazi's…
I'm proud ♫ to be
A wokie ♪ from Muskogee ♫…
"Woke represents a war on truth, so we plan to wage a war on woke," Florida's unwoke woke expert said today.
"We will fight the woke on education. We will fight the woke in the corporations and we will fight the woke in the halls of congress. We will never ever surrender to the woke mob. We are going to leave woke ideology in the dustbin of history where it belongs."
Wow, the projection is really hardcore today. Someone must be feeling extra insecure. Maybe Trump's surprising criticism of his "woke" yammering hit a nerve.
I think he's realizing his group of "yes men" doesn't really extend as far as he thought it would.
Woke is going out of your way to make sure that you're NOT being an asshole. Anti-woke is going as far out of your was as possible to make absolutely sure that you're being as much of an asshole as possible, to as many people as possible. It's the default position of the bully.
Debate question number 1. Define "woke".
"Woke represents a war on truth…"
Once again, the Republicans are accusing their opponents of actions of which they are themselves are already guilty.
"Simplify and repeat" is a long-standing fascist formula for on-boarding their dull-witted followers. However, a demagogue needs a certain degree of charisma to make if work effectively.
If 9/11 anyone 9/11 remembers 9/11 post-9/11 Rudy 9/11 Gulianni 9/11 press 9/11 appearances (9/11), they also realize Ron woke Desantis woke is woke doing woke nothing woke new woke.
Let's Play Stephen Miller's Fascist Mad Libs!
"[strawman] represents a war on truth, so we plan to wage a war on [same strawman]. We will fight the [same strawman] on education. We will fight the [ditto] in the corporations and we will fight the [ditto] in the halls of congress. We will never ever surrender to the [ditto] mob. We are going to leave [ditto] ideology in the dustbin of history where it belongs.
He promises a never ending war on something he can't define. Checking off the metaphorical boxes.
. For Ur-Fascism there is no struggle for life but, rather, life is lived for struggle. Thus pacifism is trafficking with the enemy. It is bad because life is permanent warfare. This, however, brings about an Armageddon complex. Since enemies have to be defeated, there must be a final battle, after which the movement will have control of the world. But such a "final solution" implies a further era of peace, a Golden Age, which contradicts the principle of permanent war. No fascist leader has ever succeeded in solving this predicament.
This topic was automatically closed after 5 days. New replies are no longer allowed.