Haven't we been told by his handlers that, plainly, everything he says is so outrageous that anyone should be able to tell it's not worth listening to?
Watch Tucker Carlson flub the facts
So, same shit different day?
Oh wait, I guess on most days he instead mendaciously lies about the facts.
(When he is not, that is, hiding them under his wig.)
please stop posting this stuff. they feed off it pesco. next time you're tempted, stop and post something else. Maybe something food related? Or how about some world news. Or the hottest new meme from singapore. Anything else. Really.
Logic is losing. If I could: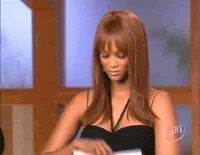 Termites are feasting on his brain.
As you can see
No matter how he tried
He could not break free
And the worms ate into his brain…
Poor worms, to face such a fate.
Consider that quote attributed to someone in the Bush administration deriding "the reality based community"-- conservatives make shit up and move on, it's the official version of "a lie travels halfway around the world while the truth is still putting its shoes on."
You can bet you'll hear this repeated by other conservatives.
I'll take pictures of kittens and puppies even.
Fer shure, we got tons of those already, but never enough!
To watch Tucker Carlson speak is to watch him lie, not flub facts. You can only flub something you were attempting to get right.
I hear ivermectin can help that.
Death by starvation is a cruel fate.
i am long past the "wonder what this asshole is saying now" stage. just fucking go away already.
Not we that've been told that, but a court of law. My thought was, he has to say enough shit per day like this in order to maintain his street incred.
It's deliberate. He says things that are (obviously) factually wrong on a regular basis, and makes arguments that are (obviously) dumb, on purpose:
I doubt he's that ambitious. All I suspect he's trying to do is make bank.
OTOH, who knows, maybe this pig in a wig is gearing up for a presidesntial run.

I wouldn't call it a "feast."
There really should be a lawsuit that asks the court to force Fox News to either boot Carlson (and Pirro and Hannity and all the other lying liars) off the network or drop the "News" from their name. You can't have both. Pick one or the other.