So he was basically bitten by a punching bag and subsequently acquired some of a punching bag's qualities? This explains a lot.
that second video was perfect. no notes.
So De Niro, yet so De Farawayo.
"Fra-gee-lay"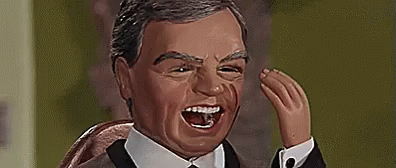 Narrator:
"As a teen, young Ben was bitten by a radioactive punch-bag.
Sadly, his uncle Peter was murdered by a bag-thief.
Now young Ben spends his days as a reporter but, at night, he tranforms into:
(Over to you, I am honestly spent.)
Your unfriendly, internet whinie little internet tr0ll.
"Okay, other things that I hate, today," Ben told his viewers
People watch and listen to this?
Also, that punching bag video needs to be spread far and wide. For all time.
Huh, "Ben Shapiro being beaten up by an inanimate object" was on my Bingo card!
One must choose one's battles with care.



He actually RAN AWAY from the punching bag. Not that I blame him; if it's embarrassing to have the punching bag outhit you, it's just hell when they pursue you as you try to escape. Best eliminate that possibility altogether; quick thinking, young fellow.
Does this mean the guy who punched Richard Spencer is a shapeshifting hero, traveling the land and punching Nazis? I'd watch that.
There are many models of masculinity out there. Kapo Ben limits himself to only the most toxic variety, and then fails to live up to it.
Though ironic, at least we have a shining example of how not to characterize gender.
I wonder if Shapiro still thinks about the punching bag and grinds his teeth while fingering his sidearm as he imagines how it would have gone if only…
Was the punching bag in a stand your ground state? Sports r dangerous!
Well, he's flouting and flaunting at the same time, a trick mastered by only a few performers.
(Should this be moved to the Grammar School thread?)
"I mean, he's basically just doing David Bowie but transed-up."
Does he even know who Bowie was?
Or that he had a long term relationship with a trans woman?
This has been circulating lately.

I assume that the intellectual giant meant "flouting the rules", not "flaunting", but anyone who listens to him certainly won't know that.