These things are so amazing for cleaning but there's always a little voice in the back of my head that says that there's no way these things are good for the environment. Do we have any idea what the environmental impact of these things are? That's an honest question, I'm not trying to be a tinfoil hat about it.
Jeez, first pluto, now mars?
I bought a 100 pack off amazon a couple years ago and if I remember it right it was only a couple dollars more than what I could buy a 6 pack of them at a local store. Their durability is basically the same as the name brands, so it seemed like a solid deal if you use "magic erasers".
a HUNDRED? man, even 20 is a lifetime supply for me. what the hell are you people doing with all of those? haha
these things are great if you want to take off a little scuff or smudge but for real cleaning? please. they suck. yeah you should buy a hundred, because each one will get you about 100th of the way through a tough cleaning job.
They shed little bits of plastic as you scrub. Very fine grain. Not sure what their effect is.
---
I bought a lot of 100 of these the last time that BB shilled them. I used them as stocking stuffers at Christmas. My cousin's son said they were good for cleaning sneakers. Also discovered that they're good for cleaning stainless steel appliances.
I did not know that melamine foam is a thing.
Now I do.
Very confusing at first, because I conflated "magic erasers" with plastic erasers: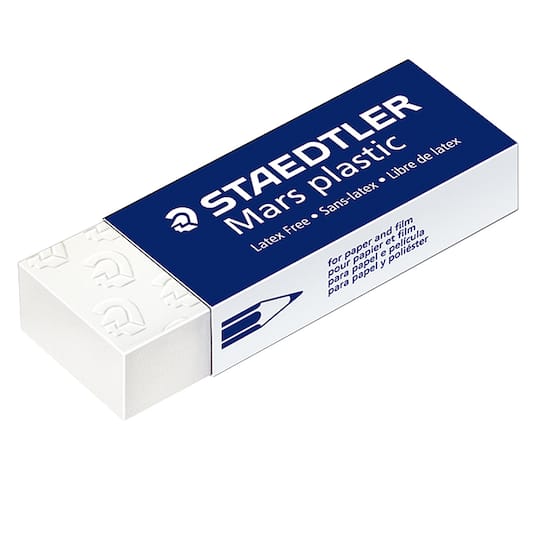 You can imagine my perplexity at the thought of anyone needing one hundred plastic erasers.
After the BB shilling, I tried some of these the last time I moved out of a apartment and needed to do a thorough cleaning. Not particularly impressed; they fall apart orders of magnitude quicker than green scrub pads, and I don't see any advantage in effectiveness except perhaps less rinsing as the disintegration of the magic eraser constantly exposes new surface.
Mark's use case of removing sticky goo is probably the best use for these as rinsing sticky goo out of green scrubbers is painful. But for ordinary marks and stains I will stick with green scrubbers.
Hint: If what you're cleaning can tolerate a little WD40, that'll loosen up any sticker residue in a jiffy. A quick secondary clean to get the WD40 off and you're golden. No abrasives needed.
I think I remember reading about a woman who scrubbed her kids face with one of these pads, and was horrified that she ended up giving the kid what looked like first degree burns. She alerted the media, and the collective reaction was, I think, "what did you expect would happen, dumbass?"
My favorite use case for those things is shower/bath scum.
Thy're just the right amount of abrasive to lift that nasty mix of soap, mineral, and biofilm that usually requires both harsh chemicals and heavy scrubbing to dislodge, with just a quick wipe. Plus you can throw it away after.
I have had bad experiences with durability on the generic ones, but you can usually get a bathtub out of even the crappiest.
I also bought these one of the other times BB was shilling them. I used them for cleaning some of the time, sure. But there are many applications for a good piece of foam, applications you will only discover once you have a cubic foot of them sitting around. Mostly I think I used them where I needed a bit of vibrational dampening, and also as erasers for dry erase markers, anyway they're all gone now, most likely to a good cause. It might be time to get some more!
Maybe this is a little obsessive-compulsive of me, but that picture at top only has 92 erasers in it, not a hundred.
They are great at cleaning dried acrylic paint from the paint cup of my gravity-feed airbrush.
I am disappointed in this product. I have had a curse laid on me since 2003, and bought this product to help get rid of the magic curse. I used all 100 magic erasers, and none of the magic is gone.
Only 3 stars!
Ahh, foreign translated descriptions:
One use I've found them good for is cleaning things like scuff marks off of walls and such. Also animal marks from the oils in their fur rubbing against stuff. For those that haven't used them, they aren't meant to be durable and reusable, they're meant to ablate as you use them.
It"s a microabrasive. Know what else is a great microabrasive and less harmful to the environment? Baking soda. Baking soda is amazing at getting out black scuff marks. Even better than these, I have found.