[Pops popcorn]
[Activates cloak of lurking]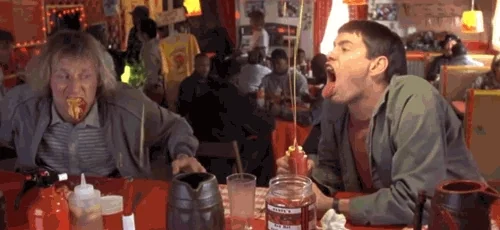 [Cracks knuckles] All right, let's get the party started, then.
I'll eat ketchup, but only if it's NOT ON A HOT DOG.

Never on a hot dog!
with you 100% on that!
Ketchup is for french fries. Give me mustard on anything else.
HERESY!!! YOU MUST BEEN SHOWN THE LIGHT AND THE TRUE™ CHICAGO HOT DOG WAY!!

Uggh, next you're going to talk about pizza casserole deep dish, aren't you?
Hot dog: Mustard only
Burger: Mustard and Ketchup
Fries: Ketchup… though on occassion K&M is a nice change
Sandwiches: Mustard, never Ketchup on any lunch meats
…and dog forbid no mayo!
not ever (for me, thankyouverymuch!)
I'll just leave this here…
Liz: You were the one who wrote "every kind of mustard" on my shopping list.
Tracy: And yet you still don't have the one I'm thinking of. It's red, it says "ketchup" on it. Ah. I hear it. That's on me.
Hot Dog: mustard - and ketchup why not?
Burger: grew up ketchup only, but grew to welcome mustard too
Fries: ketchup but you don't know what you are missing if you don't mix mustard in there too
Sandwiches: mustard only, and ketchup only if part of faux russian dressing of ketch, mayo, and relish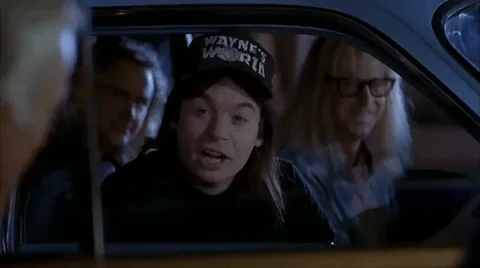 Hot Dog: ketchup, mustard, dill relish, onions
Brats: mustard, saurkraut, onions
Burger: mustard, "run through the garden"
Fries: Beef Gravy and/or malt vinegar, sometimes ketchup/vinegar instead
Sandwiches: mustard, never ketchup
Breakfast eggs: ketchup, sometimes. Also salsa sometimes. no mustard
No ketchup on a Chicago style hot dog. Also, depression dogs FTW.
Most Chicagoans only eat that when people visit from out of state. This stuff is the go to.
Cheap Hot Dog: ketchup, yellow mustard, sweet relish
Good (Sahlen's) Hot Dog: Ted's Hot Sauce
Hot Italian Sausage: Weber's Horseradish mustard, sauteed peppers and onions
Burger: The options are endless. Really like swiss with carmalised onions, mushrooms and steak sauce
Fries: malt vinegar and salt
Italian Submarine Sandwich: Mayo or sometimes Italian Dressing
Other Sandwiches: yellow mustard, if balogna, add bread'n'butter pickle slices
Breakfast eggs: Frank's Hot Sauce