What else can you call someone who does a lot of fascism, if you can't call them a fascist?
"Those are the people we beat on policy"
Ah, there's his mistake. That's too weak for the MAGA types.
2016:
I mean Ron DaFascist is right there. It's not perfect, but what is? It's certainly accurate.
"Text Freedom to 512345"
Don't worry. We'll take care of it.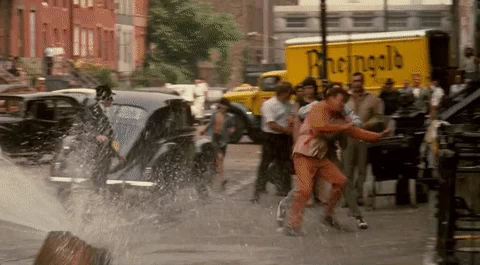 If he wants to be Fuhrer he'll have to up his thuggish bullying game.
Using synonyms will REALLY confuse them!
I'm sorry, but we are WAY past that sort of moment, for both Trump and DeSantis… DeSantis is holding up a baby pretty much every day now with the various laws he's passed attacking trans kids and Black kids. And Trump has literally tried to overthrow the government to keep himself in power.
Unfortunately I think it's an exaggeration to say he appeared meaningfully flustered or at a loss for words. While it may make us feel good to say he was triggered, it looked more like he got fired up and claimed to be on the side of protecting kids by not letting her impose her agenda on them (when, of course, imposing an agenda is exactly what he is trying to do).
The real story here is that someone was brave enough to stand up to him publicly. Imagine what would happen if more people did so?
You make a great point. That Dead Zone scene was predicated on the subtext that such an act would be a career-ending moment of shame, but these people are proud of what they're doing – even though there's ample evidence that it costs lives.
Does he always speak with the cadence and inflection of Trump or is this a new thing?
Kudos to anyone who stands up against him.
However the polling station is where everyone needs to get active.
desantis has modeled himself so much after tRump as a studious apprentice that he even does the "air accordion" with his hands as he speaks.
so, in answer to your question, it is a relatively new affect from the junior fascist as he tries to engage the MAGAts with familiar similarities as he panders to their spiteful and shitty view.
Sure, but if not enough people have been convinced to vote against him in the polls, it's then too late to do anything. If you want to oust fascists, you have to do it immediately, constantly, and unflinchingly. Shout them down at every moment, lest their propaganda affect another susceptible mind.
A pasty, as in an overly white guy? Or a piggy, as in a little fascist? You don't need to censor those here…it makes them look like misogynist slurs even.
A privy, because he's full of shit? Is this the Wordle thread?
Yeah, come on, every Republican leader except possibly Mike Pence gets called a fascist these days. They've all heard it a thousand times, along with "racist" and everything else. It does not causing any flustering.