That's a very white choir.
i don't know who filmed that, but that was comedy GOLD.
Anyone associated with the former guy's administration should be made to feel uncomfortable, unwelcome, and inadequate at every turn.
Nobody likes a sour puss, nobody.
Ah yeah, ok, that actually makes sense. I hadn't actually watched the video - she's clearly not there and maybe isn't even listening to what's going on, it's hard to say. I can't imagine she's eager to show her face there, so I don't expect her to be at the White House, even if she did have a legitimate reason to be there (which I also can't imagine).
That's Harvard Law School grad Kayleigh McEnany. Another one of the right wing hacks with an inside track at Harvard, along with Tom Cotton, Ted Cruz, Kris Kobach, Elise Stefanik…
Harvard's affirmative action for miserable people with no unique ideas, no character, and no intellectual heft sure is reflecting well on them.
Harvard rationalizes these goons on the grounds that they somehow add to the diversity of ideas and promote deeper intellectual development all around.
What's clear is that it's the exact opposite – when Harvard brings Kris Kobach in, they're taking away the spot of someone with genuinely interesting and different views. When Harvard rewards Kayleigh McEnany, they make public discourse and the open exchange of ideas noticably harder. All they're getting are robotic followers of an exhausted ideology, and they're not simply fading away to become copyright attorneys parsing the uniqueness of a hard seltzer slogans. They're making the world a significantly worse and uglier place.
I think that was Psaki wondering what angle reporters would take if they wrote about her saying that.
---
I think they know, deep down in their shriveled, wretched souls.
I don't know. I've always had a soft spot for Statler and Waldorf

There are a lot more positive things and people which/who have come out of Harvard than horrible ones. Kayleigh was at the Law School, and the Federalist Society prowls the halls there and elsewhere, looking for amoral egoist climbers to sponsor and guide into media-ready positions they themselves fund and provide.
Sociopaths are everywhere - Harvard (for all its many flaws) is not a sociopath factory.
Whaddyamean? Statler and Waldorf are two of the most joyous Muppets. They're GLEEFULLY sarcastic!
AND Mike Pompeo.
Worst one-two punch Kansas ever got from the GOP.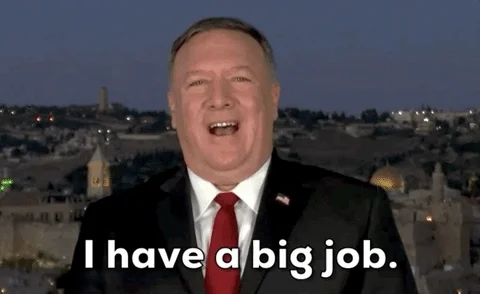 [valley girl voice]Y'know…Oh m'gawd…Kayleeee[/valley girl voice]


I always called her mack-a-ninny.
Kayleigh McEnany is among the most loathsome of loathsome, but this portrayal is a world away from being accurate. She's waiting for her segment on Fox to start up – either in the room, in front of a screen and set back; or she's in a broadcast closet somewhere else entirely.
Even if she IS in the room, in the back, of course she's not going to break out in song. Like everyone else who's been media-trained in this world of hot-mic flubs, ya shut yer mouth 'til the green light turns "on."
Kayleigh McEnany still sucks shit, though. Just to be clear.
She wasn't lying about her singing ability though. She should stick to comedic come-backs.
Yeah she was eager to bestow her wisdom on a Fox News segment.
Who wants to live in a world where we shame people who don't have natural singing ability for leading a chorus of "Happy Birthday"?