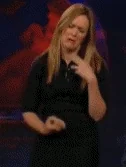 So sick of these people and their whinging about how unfair things have been for them since they tried to overthrow our government. Assholes one and all.
The website version is even better:
MacEnany had planned to regale the nation with the wondrous achievements of the Trump Administration, sadly those plans were upset when her boss encouraged a crowd to murder Congress, and they failed.
Ah, that famous Christian humility.
Well, she got to speak for about 500 times longer than it would have taken to list all turmp's great achievements.
It was to be her dream demo tape for FoxNews.
They hired her anyway.
Well, well, well - so she claims to be religious, does she? Does that include passing on the completely OTT lies and demented and deranged thinking of her boss? I'm not aware of any religion that caters for the criminally insane or encourages acts of violence on politicians. For her to say that Trump has actually done some good is, quite frankly, laughable.
"Take heed that you do not do your charitable deeds before men, to be seen by them. Otherwise you have no reward from your Father in heaven. Therefore, when you do a charitable deed, do not sound a trumpet before you as the hypocrites do in the synagogues and in the streets, that they may have glory from men. Assuredly, I say to you, they have their reward."
-MATTHEW 6:1-2
so where does "not having false gods before me…" or "not bearing false witness…" fall into that whole 'woman of faith' thing?
Trump was pretty clear that you must only worship Trump and that any lie in his service is A-OK.
Well, Christ was pretty clear about taking questions from activists…
But 500 X Zero is still Zero
At first I read/imagined that headline as "Kayleigh MacEnany's plan for grandslam breakfast…" Because Denny's is where I imagine she will be eating from here on out (no disrepect meant to Denny's or those who eat there).
I am unaware of the portions of the Christian bible that relate to insurrection and press conferences, but modern religion is not my thing.
Like peanut butter, it gets everywhere once you open the jar.
That grand farewell would have lasted as long as it takes a person to say, " *Woman. Man. Camera. TV."
Well ultimately, what is a prophet other than god's press secretary?
Kayleigh Smack-a-fanny! Screw you and the tRump you rode in on!
I really really really love the gif. Cannot stop laughing.
A press briefing to recount all the good things the Trump administration accomplished would be overkill. Surely a tweet would be more than enough space for an exhaustive list.