That editor's note, tho…
Man I wish this just became the standard editor's note on all stories about Trump…
"Duyba was a low-energy loser who only managed to start two wars. Sad! First act in White Hose will be to repeal all peace!" ~ Donald Trump, Twitter
I was getting nauseous watching him last night just with the facial expressions he was pulling.
I was both amused and confused by his advocating some very Democratic policies - some New Deal-style massive government spending on public works (while also increasing the military and decreasing taxes…).
I know the solution for Trump
1 part Drumpf 20 parts water.
Wouldn't that solution push Trump right to the precipitate?
Nah, Trump is highly soluble, just ask any business he's owned.
oh wait, you can't. they are no longer solvent teehee
Dammit. I got distracted and you edited in that joke before I could make it.
With the general just starting now, Moore's got a crystal ball he's projecting his opinions into, so I don't see any reason to worry too much about his guesses. There has been a trend of turnout increasing over time since the 90s, with turnout lower for incumbent races. Nothing currently suggests this one will be different. Trump might win, I'm not confident he'll lose, but unless things change significantly, polling's showed Trump trailing Clinton for months now, with only one outlier poll showing Trump winning in the Electoral College, and all showing a loss of popular vote.
If trump's going to win anyway, I might as well look around for a really progressive fourth party candidate whom I can really get behind.
I left for Canada in 2002 shortly after (and partially because of 9/11 (there was also a fiancee involved)). I got my Canadian citizenship in 2008 and renounced my US citizenship last year. I couldn't be happier about my decisions (and I'm only becoming happier).
Statler: Just when you think this show is terrible something wonderful happens.
Waldorf: What?
Statler: It ends.
The question is once the Trumpster becomes bored with it and checks out except for photo ops, who would be the Svengali behind the throne.
Mike "Fucktard Woman-Hater" Pence. As Maher said last night, you'll notice that the governor's approval ratings are for shit.
Totally thought you were going to say 'one part Trump, seven parts hydrofluoric acid'.
To the Secret Service: A joke. It's a joke.
Just as long as they don't think you're lye-ing about that.
If he donated some of his fat via liposuction, he could sell a limited edition of TRUMP soap.
Still makes me want to punch him in his smug face.
Make that two punches. At least.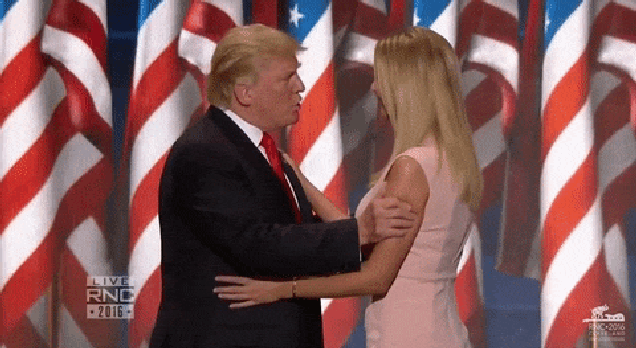 (Isn't that the daughter he said he'd like to fuck if she weren't his daughter?)
There is no way I'm giving that a like!
Ewwwwwwwwwwwwwwwwwwwwwwwwwwwwwwwww…